Happy Labor Day!
This weekend's must-read is quite apropos of today's holiday. 'Profits Without Prosperity', an incredible article at the Harvard Business Review, shows exactly how corporate share buybacks have gotten out of control in the last decade. It then goes on to point out the various ways in which buybacks-gone-wild are killing the capital formation process in America, holding back the investments needed to keep us competitive and decimating the middle class workforce that actually built this country.
The evidence is presented by William Lazonick, professor of economics at the University of Massachusetts Lowell, and one of the nation's foremost experts on corporate buyback activity. Having studied the subject for some three decades, Lazonick concludes that an SEC rule rewrite in the early 1980's meant to drive Value Creation has instead ushered in an era of Value Extraction – wherein an increasingly smaller group of corporate executives and hedge fund managers reap an increasingly larger share of the productivity benefits of the economy.
For example, buybacks and dividends – which serve to drive compensation higher, enriching shareholders while diverting resources away from investment and innovation – accounted for over 75 percent of net income for long-time S&P 500 member companies last year. Contrast that with the retain-and-reinvest model that the economy ran on from the end of World War II to the end of the 1970's, in which corporations were much less preoccupied with "maximizing shareholder value" and padding CEO salaries.
The chart below illustrates this point starkly:
Since the early 1980s, when restrictions on open-market buybacks were greatly eased, distributions to shareholders have absorbed a huge portion of net income, leaving much less for reinvestment in companies. (Note: Data are for the 251 companies that were in the S&P 500 Index in January 2013 and were publicly listed from 1981 through 2012. If the companies that went public after 1981, such as Microsoft, Cisco, Amgen, Oracle, and Dell, were included, repurchases as a percentage of net income would be even higher.)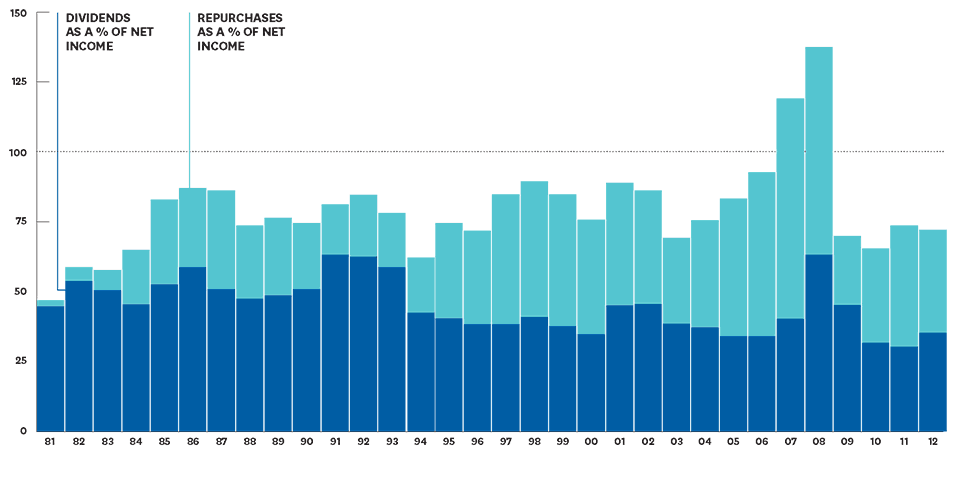 Josh here – No one is denying that stock prices haven't gone up as a result of this trend. The claim, however, is that much more value has been extracted as a result of this than has been created for the real economy and other stakeholders – like taxpayers, employees and society at large.
You may not agree with all of Lazonick's points or his prescriptions for a better way forward, but I guarantee this piece will change the way you think about how markets are currently working and whom they're actually working for.
Find the time to read it this weekend (free registration may be required, just do it):