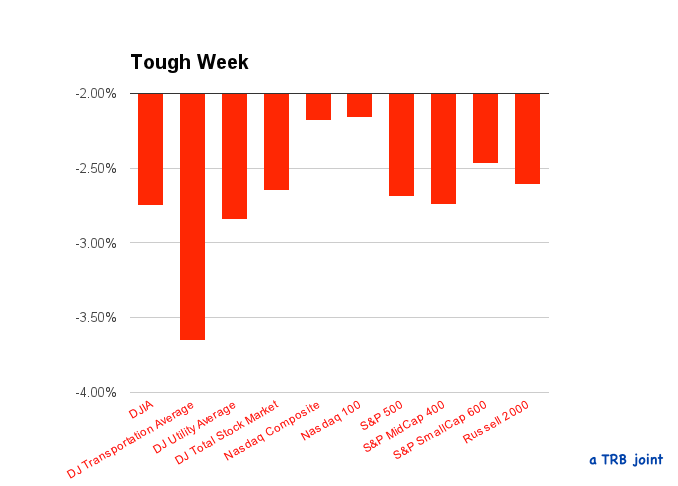 This past week was the worst for US stocks in two years and the pain was felt all over the globe.
$765 billion in market cap was wiped out of the global stock market since Monday as the MSCI All-Country World Index dropped by 2.4 percent.
US stocks fared a bit worse, with a drop of 2.7 percent this past week. Your scoreboard is below (data via Dow Jones):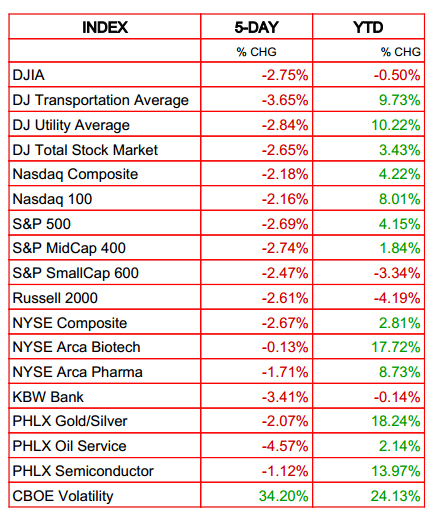 As you can see, no one and nothing was spared this week, while volatility – which many were beginning to talk about as though it were extinct – leapt 34 percent. Small caps, the Dow Jones Industrial Average and the bank sector are all negative on the year.
I've seen worse as have you, if you've been around for awhile. During the first week of August 2011 – exactly three years ago – global stocks lost a combined $2.7 trillion in value. By the second week of August, they had lost a total of $4 trillion in value – with US stocks posting back-to-back weekly market capitalization losses of $850 billion and $710 billion.
Back then, we were plagued by Congressional brinksmanship over the debt ceiling and a European debt crisis that threatened to torpedo the entire global economy. Now we're facing the normalization of interest rates sometime in the year ahead, some Middle Eastern violence (which, let's be honest, is a constant throughout human history) and renewed economic weakness on the European continent – which explains the market-leading losses for the bank sector.
It's always something. There's always a reason to sell. It's just that sometimes we pay more attention.
We're paying attention now.
The good news is that everyone these days is a passive, patient, disciplined investor and they'll all behave completely rationally in the presence of this newfound volatility. Just ask them.