The day we started our new firm last September, we had one outside visitor come by and say hello. It was Michael Kitces. Nobody knows this industry better in the entire country than Michael, he's spoken at every important conference and event in the business over the last few years, he knows all the models, vendors and strategies there are.  My team and I pumped questions at him until he cried uncle, lol.
Anyway, when someone as respected and knowledgable as Michael names you to a list, it's a very exciting and humbling thing. This morning both Barry and myself made his list of the top advisor blogs. We're really grateful for the acknowledgment and proud to be listed alongside so many of our friends and colleagues – people like Roger Wohlner, Tom Brakke, Cullen Roche, David Merkel, etc. The truth is, Kitces's own blog, Nerd's Eye View, could've been ranked as number one here and nobody would've disputed it.
Here's the top ten, I suggest clicking over to check out all the rest.
Thanks again, Michael!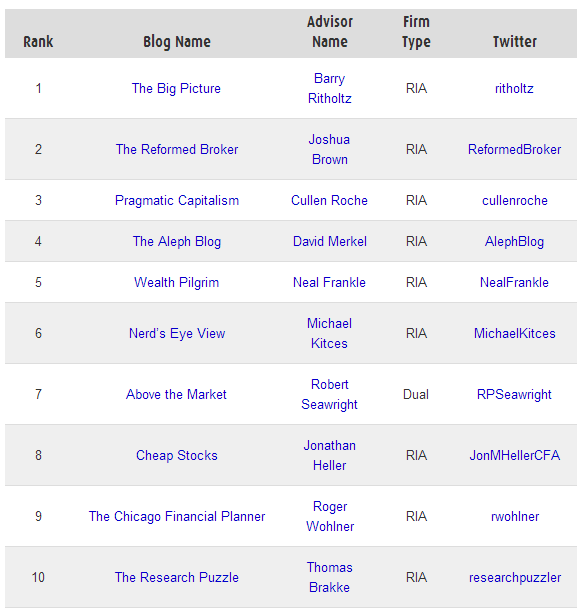 Source:
Introducing The Top Advisor Blogs And Bloggers (Nerd's Eye View)