I was on Amazon looking at the "stock market investing" book category to see where Clash ranks now that it's beginning to go on sale. I was number seven last night. By the way, this is how I'll be assessing my own self-worth for the foreseeable future, because I have emotional and insecurity issues I'm still working through.
Anyway…
I found it interesting that, while there are a handful of modern books at the top of the list, investors tend to prefer the classics (and perhaps with good reason). These are the top sellers as of yesterday: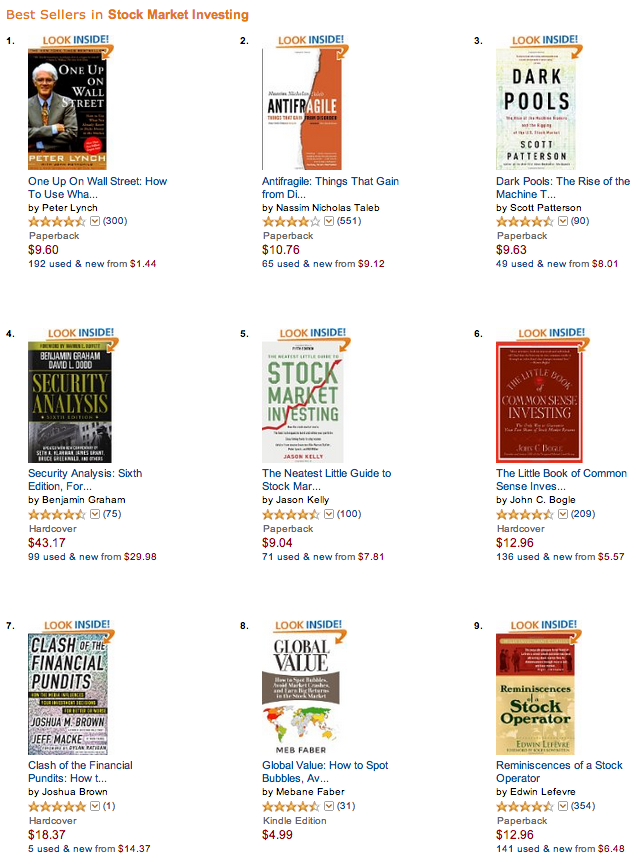 Let's take a look at this list…
Peter Lynch's seminal One Up On Wall Street was written in 1989, 25 years ago, and it remains one of the most important books for stock market investors even today. It's been revised or updated since, the year 2000 version being the one Amazon is selling here.
Jack Bogle's Little Book of Common Sense Investing is almost a religious text amongst the Bogleheads and do-it-yourselfers everywhere. At the time the book came out, Vanguard had just over a trillion dollars under management – now that figure is more like $2.5 trillion, more than a double in the seven years since he's published it.
Then there's Security Analysis, the value investor's Ur-text, originally written by Graham and Dodd in 1934. Its importance to financial market history, along with Graham's other masterpiece, The Intelligent Investor, cannot be overstated. Without Graham there is no Buffett, and without Buffett several generations of value investors may not have been inspired to sally forth and build portfolios or funds. This is an 80 year old book, it was published when Warren Buffett was three years old and Charlie Munger was seven.
Jason Kelly's The Neatest Little Guide to Stock Market Investing is a 16 year old book (originally published in 1998), now in its fifth edition, having been updated in 2012. I don't know anything about this book and hadn't heard of it until now. Weird.
Finally, there's the thinly-veiled Jesse Livermore biography – Reminiscences of a Stock Operator by Edwin LeFevre. It is to traders what Peter Lynch's book is to investors. It is still one of the most fascinating and vital books about markets ever written, despite the fact that it was first published in 1923 – 91 years ago. No one who'd read it during that era is still alive on the face of the earth, and yet the lessons from the book dealing with Jesse's many ups and downs are still among the most taught, studied and repeated in all of Wall Street folklore. Perhaps that's why it's still here at the top of the list. If you're buying your first copy, go for the Jon Markman annotated hardcover version
, which is absolutely gorgeous and totally epic.
So of the top nine books for sale in Amazon's stock market investing store, five of them are over 10 years old and three of those five are more than 25 years old.
Of the newer books, my friend Meb Faber's is the only one that was published in calendar 2014. It's the self-published companion book for his just-launched Global Value fund, in which he buys the stocks of the countries with the lowest CAPE ratios. Mebane released his book on shareholder yield last year (about combining dividends with buybacks to select stocks) and concurrently put out an ETF based on the findings of within – it promptly raised over $200 million in AUM! Guy's a genius, in case you didn't know.
Patterson's Dark Pools is a couple of years old and Taleb's Antifragile was from last summer. Dark Pools is likely experiencing a nice resurgence thanks to Michael Lewis's Flash Boys, which is for some reason not listed in this category.
And then there's my entrant Clash of the Financial Pundits, which is just now meeting the press, so to speak. I have no idea what the reception for the book will be or what kind of staying power it may have. Time will tell.
What's interesting to me is that so many of the top books for stock investors are from decades ago – in one case almost a century ago. I'm not sure you'd see that in other verticals, like sports, romance, suspense, history, politics etc. I think it goes to show how permanent sound financial advice is, how truly timeless some market wisdom has turned out to have been.