My friend Morgan Housel has a great post up about how, despite the evidence, most Americans believe still that their greatest investment is owning their own homes.
Emotionally, they're probably right and in some cases / specific markets they could be financially right as well.
I own my home and I consider it my greatest investment. It gives me confidence and satisfaction. It provides a sense of permanence for my children. It makes my wife happy to decorate it, landscape it and care for it.  Plus, I like not paying rent, something I spent most of my twenties doing in Manhattan. I have no mortgage so my only ongoing cost outside of maintenance is property tax, which I look at as an investment in the town's school district and as a barrier of entry that keeps the other homes around me filled with hardworking, productive members of society.
Whether or not my home's price will exceed the rate of inflation in the next few decades is irrelevant to me. Especially because I invest elsewhere – retirement accounts, my own business, etc.
That said, there is a large portion of the population that is misled about the actual returns their own home may produce as an "investment." Morgan sat down with Professor Robert Shiller for a crash course in why the popular mythology surrounding housing is so frustrating.
via The Motley Fool:
"The housing boom in the early 2000s was driven by a sense that housing is a wonderful investment. It was not informed by good history," he said. Most people now agree on that much.

"If you look at the history of the housing market, it hasn't been a good provider of capital gains. It is a provider of housing services," he explained.

By that, he means a home gives you a place to live, a place to sleep, a place to store your stuff.

But that's it. Americans believed — and still believe — that the value of their home will increase above the rate of inflation.

And that, Shiller says, is wrong.

"Capital gains have not even been positive. From 1890 to 1990, real inflation-corrected home prices were virtually unchanged."
Unchanged in real terms!?!?! I doubt your parents and aunts and uncles are aware of this.
and here's the chart…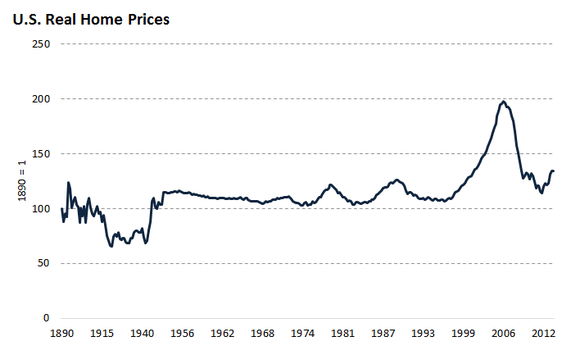 From 1890 — just three decades after the Civil War — through 2012, home prices adjusted for inflation literally went nowhere. Not a single dime of real growth. For comparison, the S&P 500 increased more than 2,000-fold during that period, adjusted for inflation. And from 1890 to through 1980, real home prices actually declined by about 10%.
This speaks to the need for a diversified retirement portfolio, one in which wealth can accumulate independent of the equity in one's primary residence.
Read the whole article when you get a chance…
Source:
Americans vs. Reality: Why Your Home is Not a Good Investment (Motley Fool)