FactSet Research has been chronicling the earnings estimate slashfest of the first quarter better than any other research outlet. To recap, at the end of 2013, the consensus earnings per share estimate for Q1 2014 was something like 4% growth year-over-year. As the quarter wore on (and the weather got worse), these estimates were gradually chopped down week after week until the consensus went to zero percent growth.
The fact that this cutting took place concurrently with the market's new-highs machine stalling out should not be viewed as a coincidence. And now, with the S&P off some 3% from all time highs, FactSet explores the possibility of this current earnings season actually showing Q1 as having been a (gasp!) down-quarter for profits…
As of today, the S&P 500 is projected to report a year-over-year decline in earnings (-1.6%) for the first quarter. At the end of the first quarter (March 31), the estimated year-over-year decline was 1.3%. The first quarter of 2014 marks fourth time in the past 12 quarters (3 years) that a year-over-year decrease in earnings was projected at the end of a quarter, prior to the start of the earnings season for the quarter. However, the index only reported an actual decline in earnings in one of the three previous quarters (Q3 2012). What is the likelihood the index will report an actual decline in earnings for Q1 2014?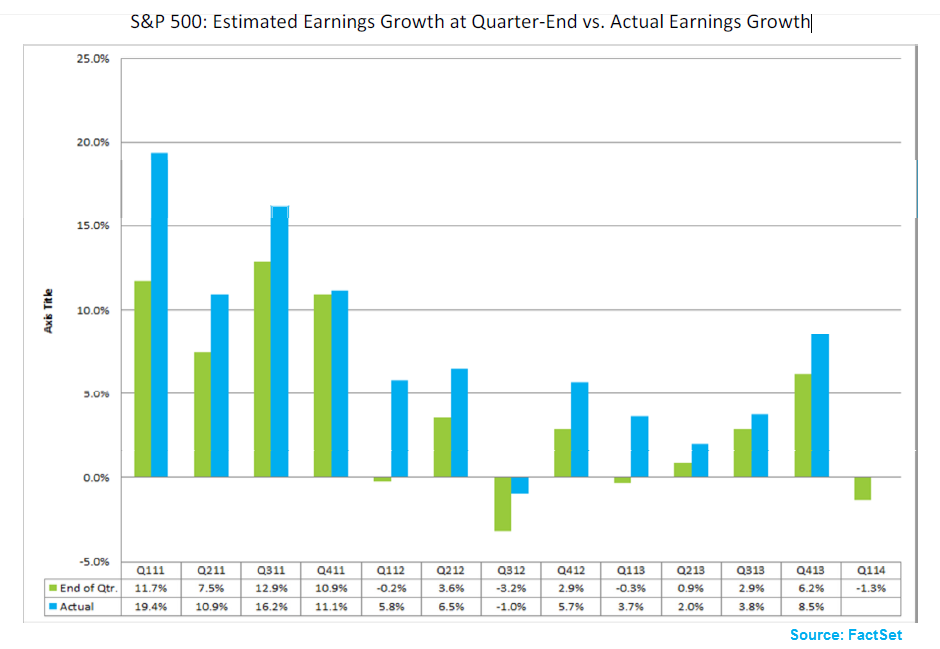 Josh here –  the good news is that analysts have been willing participants in the beat-and-lower phenomenon for years now. You can see the downward revisions (green bars) being handily exceeded by actual results almost every time. Beat rates for the S&P as a whole have been running at a rate of 60 to 70% pretty consistently for the period pictured. We'll see if they can pull it off again and avoid the first quarter of year-over-year negative earnings growth since Q3 2012.
Source:
FactSet Research
Read Also:
Jeffrey Kleintop: The Weakest Earnings Cycle in 55 Years (LPLFinancial)