Agricultural commodities, on the whole, have been one of the very worst places to be invested over the last three years. Compressed farm incomes, weak demand from emerging markets and a general distaste for anything real asset-related had kept a lid on prices and investors at bay.
Not anymore.
Food prices are shooting up dramatically this year and the related stocks / sectors are finally starting to participate in the global rally that's left them behind.
Three charts below – the first is an infographic from the Wall Street Journal detailing the action, which they ascribe largely to a global drought of sorts.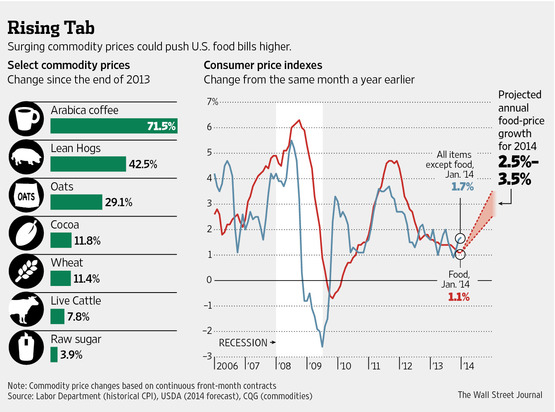 Next I've posted charts of two exchange traded products investors are using to play along with soaring ag prices. The first is the PowerShares DB Agriculture Fund, an ETF that goes long agricultural commodities  (cattle, cocoa, corn, cotton, lean hogs, wheat, sugar, soybeans) via the futures market. It's a bet on higher ag prices, pure and simple, and it's certainly done what it was meant to do YTD – up 15% out of the gates:
Finally, the Market Vectors Agribusiness ETF, which goes long an index of agriculturally-oriented common stocks – everything from fertilizer and seed companies (Mosaic, Monsanto) to farm equipment plays (Deere, Tractor Supply Co). It's got 51 stock holdings, a 2% yield and has an annualized return over the trailing three-year period of zero percent – a major catch-up trade if ever there was one.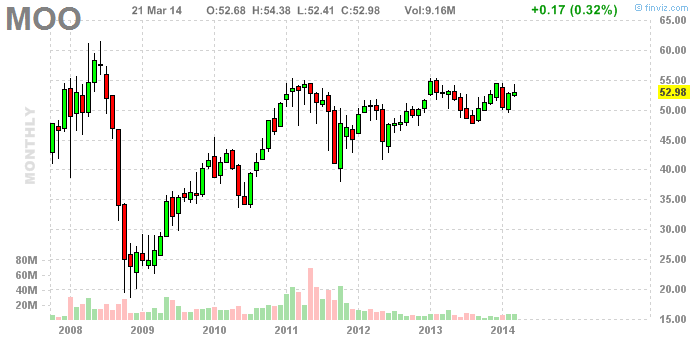 Both the prices of agricultural commodities and the stocks related to them have a long way to go just to reclaim their pre-financial crisis highs. Is this year's bullish start setting up for another disappointment for the space or are we looking at the beginning of a new trend?