Financials represent our largest sector weighting on the equity side of the portfolios we manage for clients and they have since early January.
I've said recently that the biggest, most glaring inefficiency in the entire market right now – at least to my own eye – is the fact that bank stocks are the very cheapest on forward PE and at the same time are the primary beneficiary of a (slowly) rising rate environment. Financial stocks across all market caps are selling at a forward PE of under 7 right now while consumer goods and utility stocks sell at forward PEs of around 15.  I think the market has had this completely wrong but is in the process of coming around.
Bank of America Merrill Lynch's technician Stephen Suttmeier got tactically bullish on the banks a few weeks ago. Yesterday he addressed the obvious big breakout for the sector (on an absolute basis) as well as the breakout relative to the rest of the market (not so obvious) which could become more widely observed should it continue…
S&P 500 Financials bullish confirmed by relative breakout
S&P 500 Financials broke out to a 5-year+ high within an up channel in place since May 2012. In addition, the sector has overcome the relative downtrend resistance from July 2013 within a revised channel on the relative…the next step is breaking above the Jan.'14 relative high to form a double bottom off the November and February relative lows – the completion of which would signal leadership for the Financials sector.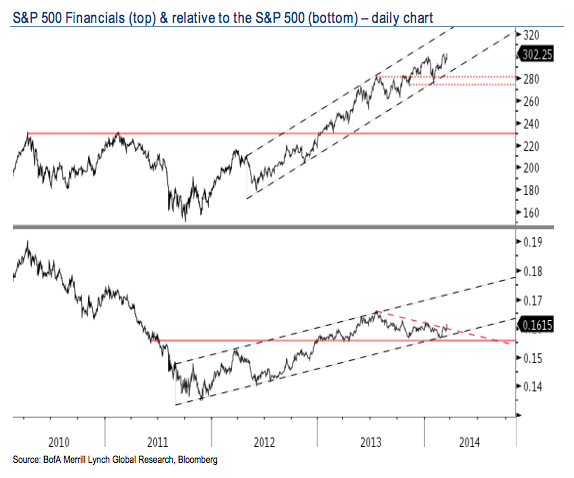 Source:
US Financials and Banks show tactical leadership
Bank of America Merrill Lynch – March 21st 2013