Steven DeSanctis who heads up Bank of America Merrill Lynch's Equity Strategy/High Yield Strategy group makes the case for why M&A should pick up beyond the slightly better environment we saw in 2013.
He notes that the cost of borrowing is still historically low, that companies who've been the acquirer in a deal have seen gains in market value and, lastly, there's still a ton of cash everywhere. These trends take a long time to play out and could act as a buffer beneath the market – it's rare to see a bear market begin just as the M&A cycle first gets cooking.
Here's BAML on corporate cash positions:
Overall valuations have been on the rise with much better equity performance but
we still see cash as a percentage of market cap above historical averages for
large and small caps (Chart 9). For the large cap Non-Financials, cash currently
represents about 10% of market cap, which remains well above the 30-year
average of 7%. As for small caps, 12% of the size segment's market cap sits in
cash versus an average going back to 1988 of about 11%. The decline in these
ratios is attributable to a function of market caps rising and not an indication of
companies drawing down their cash levels.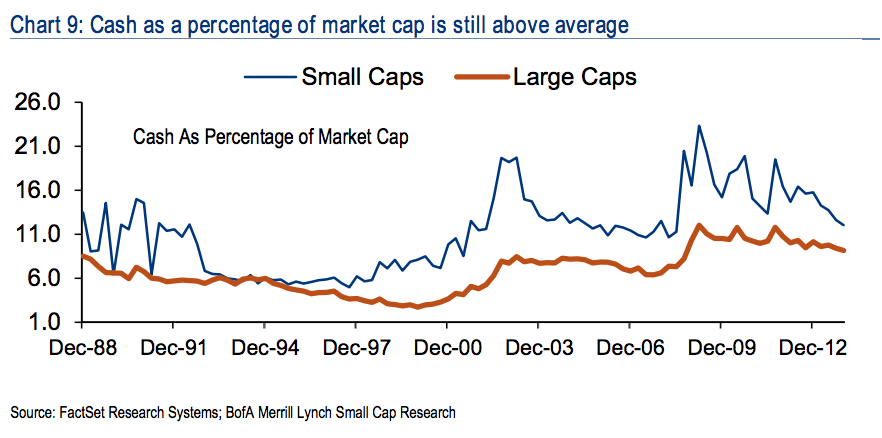 Source:
M&A activity should pick up as markets make new highs
Bank of America Merrill Lynch – March 6th 2014