Acording to Morningstar, index funds' market share (both mutuals and ETFs) has doubled in the last decade from 12% to 27%.
Investors have been abandoning actively managed funds for years now – bu not across all categories equally. The article notes that some categories of active equity funds seem to be more susceptible to being dropped for an index than others. For instance, large cap growth stock-picking funds haven't seen the same exodus as small cap value has.
The below chart looks at percentage of AUM across Morningstar's style boxes as of the November 2013 versus ten years ago in 2003.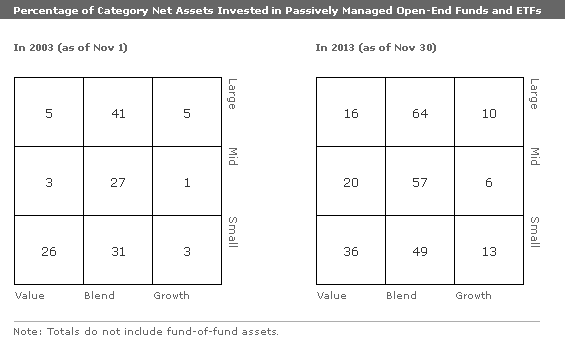 The reason for why thes middle "blend" columns seem to have garnered the most assets is that those represent the major indices themselves – the S&P 500 and the Russell 2000, for example, are both blends by definition, made up of both growth and value stocks.
Head over for more on these disparities.
Source: