Is there a bubble? Undeniably, there are few of them – in some areas of tech and in the IPO market. Also, some credit bubbles in terms of who can get debt financed at what price. But the entire marketplace or economy is not one giant bubble, as the Prophets of Doom will have you believe. Today's Tech and IPO bubbles are symptoms of the economic improvement this time around – people feeling good about the future – but they are not the drivers of it.
Here's the Barron's cover story by Andrew Bary that everyone's talking about, and check out that cover:
…in certain pockets of technology, including social media and cloud-related companies, that is no doubt true. Highfliers like Twitter (ticker: TWTR), LinkedIn (LNKD) and Workday (WDAY) all look overextended. And in the strongest IPO market since 2007, shares of up-start restaurant chains Noodles & Co. (NDLS) and Potbelly (PBPB) are rich enough to give you heartburn.

But big blue chip stocks, including large financial, technology, and energy companies, still look attractive. The S&P 500 is valued at 16 times projected 2013 operating profits of $109 and at 15 times estimated 2014 earnings of $120. Those price/earnings ratios are about equal to the long-run average.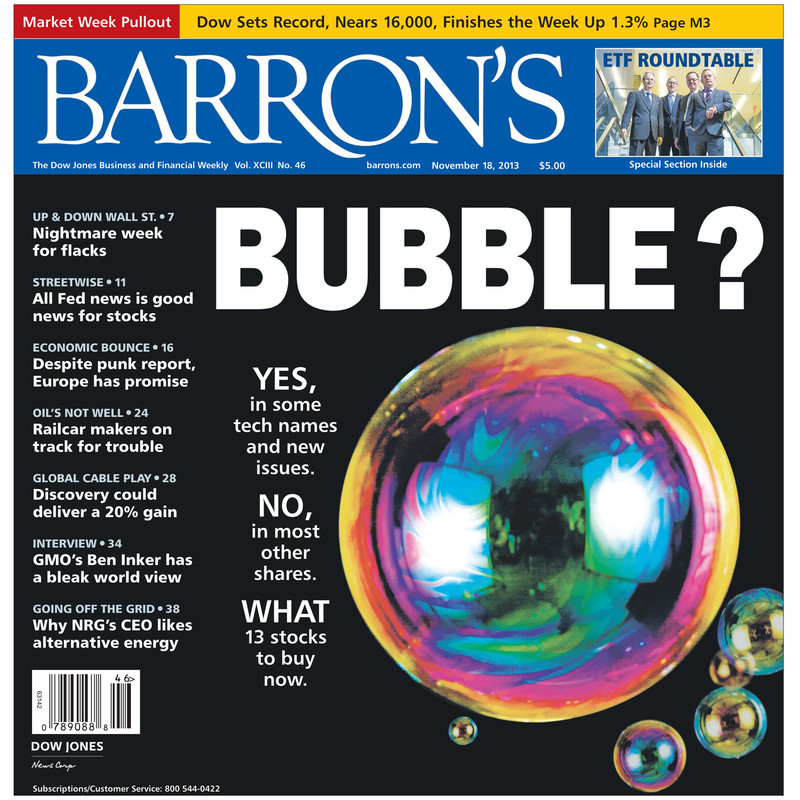 Source:
Read Also:
IPO Flipping is the New Source of Hedge Fund Alpha (TRB)