It's a year since I explained my reckless, intentionally dumb 3D printer trade. As I explained back in November of 2012:
I own both of the 3-D printer stocks in my personal account in small enough amounts that they can't hurt me but large enough amounts that, if I'm right, their rise will be meaningful.

My completely unscientific plan has been to ignore valuation and avoid any news about them, only looking at them bi-weekly to see where they're trading. So far I'm up quite a bit. It could all be wiped away in a week or I could double my money again…either way, I'm staying hands-off with my Triple D ($DDD) and my Stratasys ($SSYS) positions and willfully remaining ignorant about the short-term. I'm doing this on purpose.

Because I believe the big opportunity is too great for me to allow inconsequential tidbits of news and data to shake me out. Screw the news, forget the fundamentals…if this thing turns out to really be a thing, all I know is I'm going to want to own the two pure-plays down the road.
I did exactly what I said I would, thankfully. I tuned out every genius trader who was "fading strength" or "managing risk" or "noting key levels" because I truly don't feel they know what the f*ck they're talking about when a brand new industry sprouts up out of nowhere. I deliberately ignored almost every headline, TV discussion, research report, analyst rec, etc. And I especially ignored people focusing on minute-by-minute price ticks.
Here were the results (quoted in percentage gain on the right axis), $SSYS in white, $DDD in purple, the S&P Midcap 400 Index in green since that post (click to embiggen!):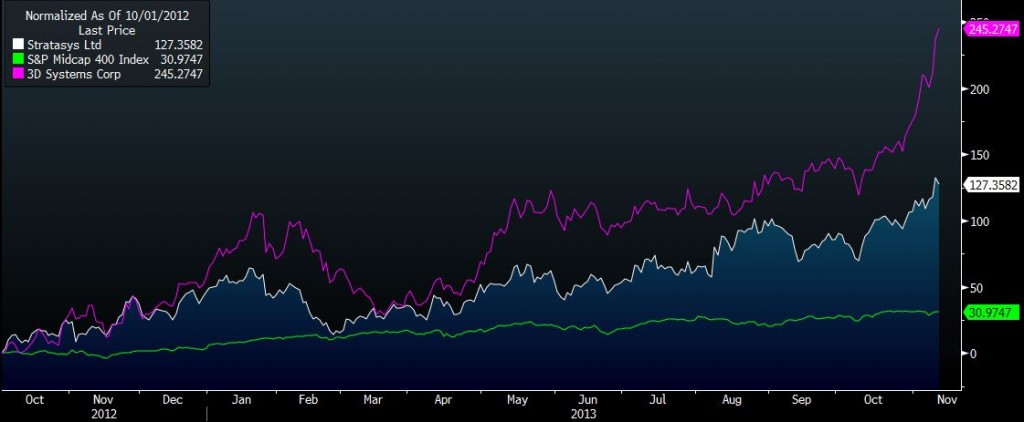 This week I took a profit in $SSYS. I'm keeping $DDD.
And still ignoring everyone and everything.
Read Also: