I don't really like the term "post-mortem" because nothing actually died today or whatever. But it's late and I'm tired, having spent three straight days running back and forth from the floor of the NYSE into meetings and conference calls. Also, the life insurance company just told me they want a colonoscopy done, sick perverts.
Here's me and Doctor J in Twitter Country today, btw: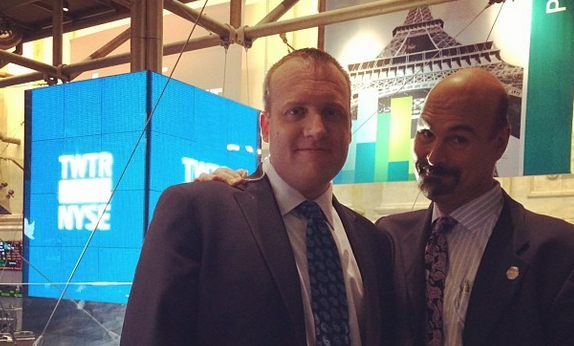 Anyway, $TWTR did pretty much what I'd guessed it would on the first day – opened huge, rallied a bit from the opening tick and then settled back down at about where it began the day. I got filled on a small amount in my personal account but truthfully I hope they crush this thing a la Facebook in the coming months so I can really be a part of it long term.
Art Cashin told us that floor rumors suggested 75% of the IPO's shares went to the 25 largest accounts in the country. Which is at it should be – you didn't think they were paying all those trading commissions for execution in the year 2013, did you? Certainly not for the research either, get real.
In the meantime, Twitter's basically priced as though they've already achieved their goals, but in reality they haven't even begun. At its current valuation, it would be the 137th largest stock in the S&P 500 and larger than General Dynamics, Yahoo, Time Warner, Kraft, General Mills and another 300-something companies that all earn money and mostly pay dividends. At 45 bucks, this is the ultimate leap of faith.
But the bell rang and bets were placed and we shall see what happens from here.
In the meantime, there will be three weeks of silence from Twitter management, 25 days in a quiet period as mandated by the JOBS Act. We'll get initiations of coverage from Goldman, Morgan and the other underwriters sometime in late November which could serve as either positive or negative catalysts, depending on how boisterous the buy recommendations are (and they're almost always buy recommendations).
To some extent, I think Twitter's direction will be tied to the direction of the rest of the market, specifically the other Nasdaq Red-Hots. If the animal spirits return after the past week's thrashing, Twitter should be able to hang in there. But if the beatings in Tesla and Netflix continue and Facebook remains below 50, a 3-handle is probable in my guestimation.
Anyway, that's it from me tonight. Mañana.