Stocks have stopped caring about earnings trends. And no, this isn't a one or two month phenomenon, it's an ongoing trend that may be nearing an end – it couldn't possibly become more stretched.
Here's FactSet (emphasis mine):
During the month of October, analysts lowered earnings estimates by 1.5% in aggregate for the fourth quarter for the S&P 500. This percentage decline was below the 1-year, 5-year, and 10-year averages for the first month of a quarter. Despite the decline in earnings expectations, the value of the index increased 4.5% during the month. This marked the seventh time in the past nine quarters that earnings estimates dropped and the value of the index rose during the first month of the quarter.

Is it unusual for the bottom-up EPS estimate for the index to decline and the value of the index to increase during the first month of a quarter? In recent quarters, it has not been unusual. In fact, it has occurred in seven of the past nine quarters (including Q4 2013). During these seven quarters, the average decrease in the bottom-up EPS has been 2.6%, while the average increase in the value of the index has been 4.7%.
This would be that whole beat-expectations-but-then-lower-them-for-next-quarter you've been hearing about. We're willing accomplices at this point, everyone's in on the game.
Here's what that looks like: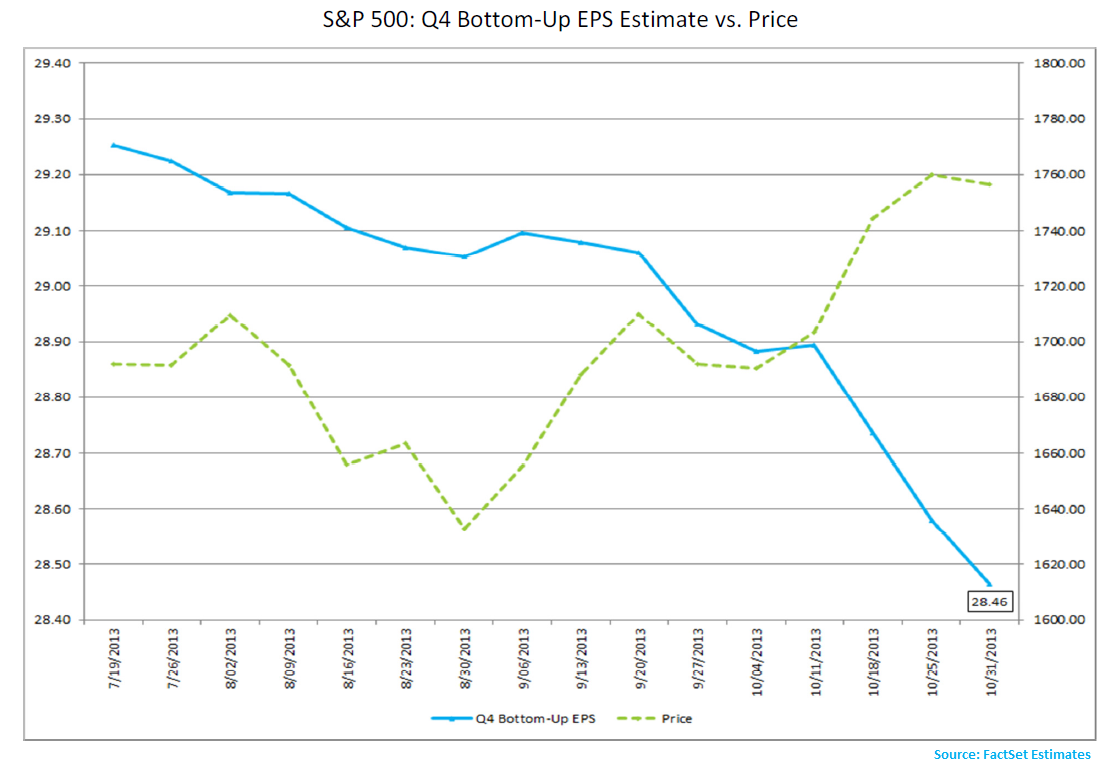 I know, I know – relative to bonds, stocks are still cheap.
But why don't I believe this "relative to" game can continue indefinitely?
Source: