It only took five years, $2.5 trillion in stimulus and 140% in S&P gains for you to go right back to acting like a silly little bitch again with your money.
You are opening up "play money" accounts to trade the markets and buy obscenely-valued stocks that you know goddamn well are going to crash someday, hoping to triple your money in a few weeks before "those other idiots lose money."  But not you:
Investing for the Fun of It (Wall Street Journal)
You are dicking around with highflier Chinese internet stocks between meetings just because "why not?":
I am so glad these people exist (Bronte Capital)
You are investing in running backs, digital drug-dealer currencies and faddish "Motifs" to "express trades" on "hot new themes":
The Age of Bullshit Investments Is Back! (New York Magazine)
You are jumping into ETFs of IPOs and paying above the NAV just for the privilege of being first:
IPO Follies: Mistakes 'R' Us In New ETF (Index Universe)
You're borrowing a record $402 billion against your portfolio holdings with margin debt, the highest levels ever seen in history:
Margin Debt Hits New High (MoneyBeat)
You are calling up your financial advisors and asking for some of your portfolio assets back so you can short Chipotle or trade Netflix calls or "move with the market". Because the average annual market gains of 12% over the last five years you've gotten for your patience just aren't enough. They were for awhile but now you can't take it anymore. There are too many stories about stocks that have tripled and it's driving you crazy not to get your piece.
You've gone from irrationally sitting in cash to plowing into treasury bond funds. From tiptoeing back into risk via high yield corporate bonds to inching your way back to stocks via dividends.
Then you bought some Facebook.
Now all of a sudden you're David Tepper.
This is where we are now. The Silly Season. Phase III of the bull market that for years no one liked – The Excitement Phase: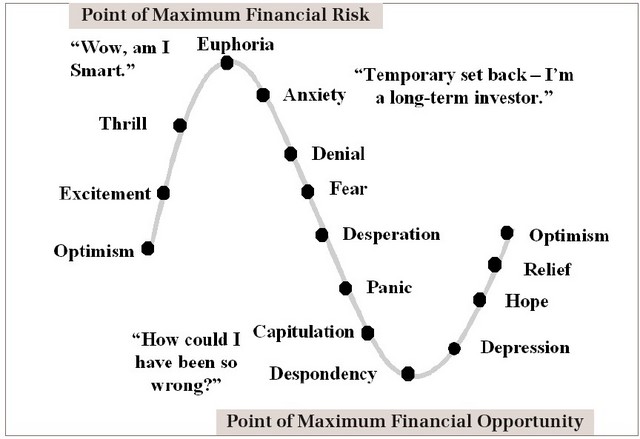 This next part coming up….this is the part where you're about to go f***ing bonkers. Absolutely stark raving mad.
You can't help it, it's how you're wired.
You can deny it out loud but I know what's really going on in your head. "I just made a lot of money on this stock, therefore I can make even more money on the next one. Everyone else is doing it!"
Go for it, be somebody. You know you want to…