Since 2010, equities have been recovering nicely – but only if you're referring to US equities. Developed market international stocks have lagged and as for the last decade's darlings, the Emerging Markets, forgetaboutit.  EM underperformance relative to the S&P 500 has been notable and nasty for three-plus years now.
But that could be about to take a turn. Here's my friend Jonathan Krinsky, who does the chartology for Miller Tabak + Co here in New York:
Looking at the relative strength of EEM vs. SPY, we can make a couple of observations.

• First, even after the massive underperformance this year, relative strength (EEM/SPY) was able to hold at
the 2008 lows (~0.23) and has rebounded, now back above its 150 Day Moving Average.

• This ratio has been in a well defined downtrend channel since late 2010. It appears to have room to head
back to the top end of the channel, around 0.27.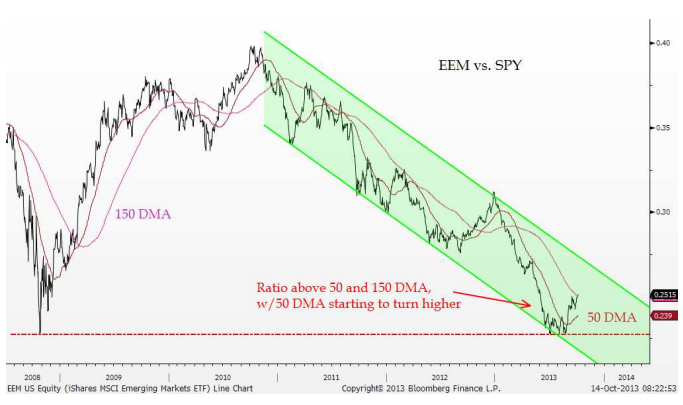 Josh here – A relative breakout for EM stocks vs US stocks would be hilarious here – it's literally the last thing anyone expects given the taper and inflation pressures in Asia.
And the widespread concept that "America is the best house in a bad neighborhood" which has, by now, manifested itself in everybody's portfolio construction.
Source:
Miller Tabak + Co