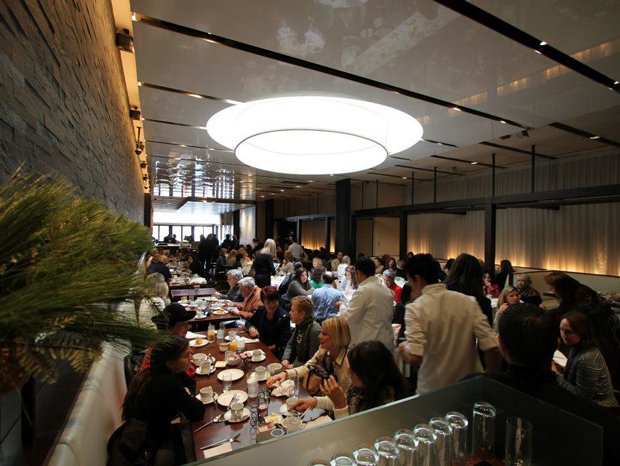 I have to start getting ready for Saturday night dinner, I'm told. We're eating on the North Shore for a change 😉
The thing is, I don't believe I'll be able to comply with most of the rules. For the uninitiated, Long Island's North Shore is a nebulous region above Northern BLVD (or the Long Island Expressway, depending on whom you ask) comprised of towns like Jericho, Roslyn, Cold Spring Harbor, Syosset, Muttontown, Great Neck, Manhasset and others. Also, there are some middle-island towns like Plainview or Albertson where the residents pretend they live on the North Shore, this is a topic for another time.
Anyway, the people who live on the North Shore think they're a huge f***ing deal and their restaurant rituals are hilarious. As a proud South Shore visitor to their many fine dining establishments, I typically flout the rules and regs anyway – but sometimes I feel bad.
The below three guidelines are in effect at all times for such North Shore restaurants as Hendrick's Tavern, Limani (or its offshoot Kyma), Toku, Rare 650, Kotobuki, Busito, Coolfish, Matsuya, Matteo's, Bar Frites, Rothmann's or anything else on 25, 25A or within 10 miles of the Hamlet in Jericho or the old clock tower on Old Northern.
1. Patrons to these restaurants shall arrive in a white luxury automobile or SUV and white only. The only exception being an exotic sports car from Italy, preferably in blue or yellow, which will be parked directly out front by the valet. White Lexuses and BMWs are preferred.
2. Gentlemen shall be accompanied by second wives at least ten years younger or first wives who "work out" enough to look as though they are, in fact, third wives (or step-daughters).
3. Gentlemen shall wear one of those button-down shirts where the pattern on the inside of the sleeves and collar is even cooler than the pattern on the outside of the shirt. Cuffs will be turned up to display said pattern, shirt will remain untucked, as though to signal "this is how I roll on the weekends when I'm not running a multi-million dollar dental practice or protecting insurance firms from having to pay out in court."
Please see the below example, a Robert Graham version available at Nordstrom's: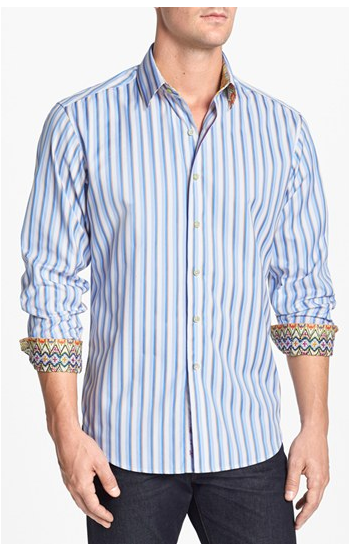 Unfortunately I do not possess any of these shirts.
I also show up with my South Shore crew and we have no problem looking anyone in the place right in their eyes.
And I don't drive a white 5-series like some snotty little girl on MTV's My Sweet Sixteen. We come black-on-black, you'll hear the subwoofer on our way into the lot.
And wifey is my high school sweetheart – make sure you hold the door, Pierre.
Okay, gotta go. If you find yourself dining on LI's North Shore, keep these guidelines in mind.
Or don't 😉