Yesterday I posted a link to TIME's cover story about Google's push into healthcare, known as Project Calico. If you haven't already read it, please do:
In the meantime, my favorite internet analyst, Bob Peck at SunTrust Robinson Humphrey, believes that this is yet another indication that Google is willing to think bigger than just about any corporate or government entity in the world right now:
The King of Option Value. We can't think of a company in our universe that provides as much optionality as Google. Some investors still think of Google as largely a search company or perhaps an advertising company, given the nature of its revenues. However, we look at Google as a technology driven, data and information company. The company is run by engineers that are focused on "solving big problems." In fact, as we look back to the company's S-1 from 2004, the company defined its mission as "organizing the World's information." Many investors originally assumed that meant cataloging web pages and advertising against them. While this was the company's genesis, it is quite clear the company has broader ambitions, expanding into: display advertising, video content, email, document creation, music, mobile operating systems, software, infrastructure, augmented reality, self-driving cars, and more. All of this can be viewed as "information," which Google wants to assimilate, perhaps for the mere knowledge of the data that surround these offerings. At its heart, Google wants to use its data to solve very large problems, which ultimately drives monetization.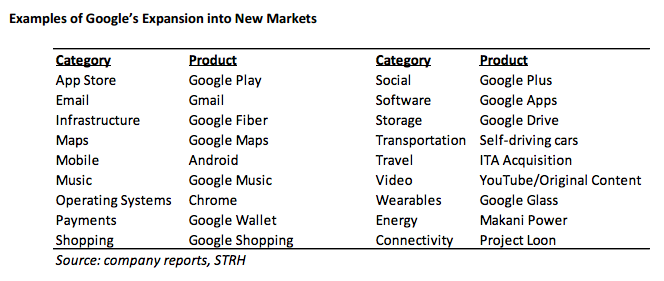 However, we think that Google's advanced R&D arm (Google X Labs) offers potentially greater optional value than most realize. While Google X has crept up on investor's radar screens more lately, as projects like Google Glass and Loon have made news, we think this is just the beginning. We believe that Google has assembled a staff that's worthy of MIT and has them focused on large, game changing projects. Further, we think significant investments are being made in areas that have enormous potential (very large Total Addressable Markets, TAMs). We don't believe Google would assemble these resources to merely target a gaming periphery market (i.e., what's been speculated on Glass), but to have its sights on more transformational opportunities. These efforts are largely unknown to investors and our research indicates that Google has ambitions beyond consumer products to highly advanced devices that can be deployed in medicine, manufacturing, and computational sciences.
Thank god someone's thinking and planning and dreaming big. The last thing we need is another slow-growth tech giant focusing on share buybacks and dividend payouts.
Source:
SunTrust Robinson Humphrey