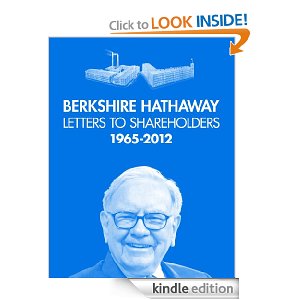 Wow, this is an incredible deal from Amazon, get the collected letters to shareholders from Berkshire Hathaway on Amazon Kindle for just $2.99 – a savings of 88%.
Over forty years of Warren Buffett's investing wisdom for just three bucks – greatest trade ever.
Berkshire Hathaway Letters to Shareholders (Amazon)
Buffett's shareholder letters are must-read material for all serious investors. Even if you have an iPad or a Galaxy tablet, you can get the Kindle app and read it on your device.
Warren E. Buffett first took control of Berkshire Hathaway Inc., a small textile company, in April of 1965. A share changed hands for around $18 at the time. Forty-eight letters to shareholders later, the same share traded for $134,060, compounding investor capital at just under 21% per year — a multiplier of 7,448 times.

This book compiles the full, un-edited versions of every one of Warren Buffett's letters to the shareholders from 1965 to 2012 (706 pages), including 1965-1976 letters not available on Berkshire's website. In addition to providing an astounding case study on Berkshire's success, Buffett shows an incredible willingness to share his methods and act as a teacher to his many students.

There are hundreds of books about Buffett's life, advice, and methods. These are his actual letters — word for word — a "lesson plan" of his views on business and investing. You can find most of the letters for free on Berkshire's website, but this compiles them into a well-designed, easily readable format.
Read more about it here:
Berkshire Hathaway Letters to Shareholders (Kindle Edition)