Charlie Munger is Warren Buffett's co-chairman of Berkshire Hathaway and an investing genius in his own right. He's almost 90, six years older than Buffett, but every bit as sharp and cagey even in his advanced age.
And also, he kicks the shit out of all you momentum investor hotshots, what with your risk parities and your quant factors and your newfangled social networking stocks. Munger has run into more burning buildings than the NYFD, dodging scores of other investors fleeing in the opposite direction without even a second's hesitation.
Two years ago this month I had a guest post here on TRB about Charlie Munger's involvement in little-known newspaper stock Daily Journal Corp (DJCO) – see Does Charlie Munger Have a Secret Small Cap Stock? from August 2011. That stock has wiped the floor with the S&P since the post, thanks largely to Munger's well-timed stock market bets utilizing the corporate cash hoard.
Here's a chart: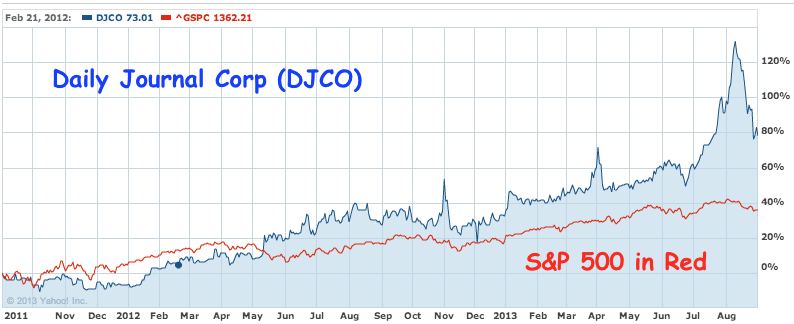 Jason Zweig has the must-read article of the weekend posted at WSJ wherein he examines the secrets of Charlie's investment success…
Mr. Munger's reply: "I'm rational. That's the answer. I'm rational."

Trained as a meteorologist at the California Institute of Technology, Mr. Munger thinks in terms of probabilities rather than certainties, say those who know him well. An early divorce and the death of his young son from leukemia taught Mr. Munger that adversity provides an opportunity to show what you are made of. Decades of voracious reading in history, science, biography and psychology have made him an acute diagnostician of human folly.

"Charlie has such a deep sense of stoicism," says a longtime friend, Christopher Davis, chairman of New York-based fund manager Davis Advisors. "He seems to be able to invert emotions, becoming uninterested when other people are euphoric and then deeply engaged when others are uncertain or fearful."
Are you rational, like Charlie is? Are you a stoic? Can you get excited just at the moment when all other around you are despondent?
Not many can.
That's why not many can be Charlie.
Sources:
Does Charlie Munger Have a Secret Small Cap Stock? (TRB)