I am really good at communicating.
I know what I want to get across and exactly how to get it across to different intended audiences. I'm pretty bad at a lot of things but I'm really good at this particular thing, and sometimes I take it for granted. I also get exasperated when I see a failure to effectively communicate in others, I forget that this skill doesn't come naturally to everyone.
Bob Greifeld, the CEO of Nasdaq OMX Group, failed to communicate yesterday. On Squawk Box this morning, he insisted to Andrew Ross Sorkin that the Nasdaq was completely open and transparent to all traders while working on fixing the problem but we know this is not true, mainly because we witnessed it. Over the course of three hours, we had barely anything from the exchange – given the speed of today's trading environment, it felt like a week. This is a fail, regardless of Greifeld's explanation.
The Fed is failing miserably to communicate as we speak. This should be expected for the following reason: These are economists and PhDs and people who spent most of their formative socializing years in college with excel spreadsheets coming out of their asses. They are unaccustomed to the skill of communication and it certainly isn't a natural ability for most Federal Reserve officials.
This reality, of course, does not keep them away from every podium they can get themselves behind. And with twelve different Fed Heads criss-crossing the country all summer, blurting things out in direct contradiction with what their colleagues may have said just hours before, you could forgive the markets for their being somewhat rangebound since Memorial Day.
Ben Bernanke's statement following the June FOMC meeting led to global equity market losses of more than $3 trillion over the next five trading days, according to Bloomberg. These losses came predominantly from developing markets that could least afford this kind of chaos.
The Fed is trying to distinguish between the reduction in its monthly asset purchases and its zero percent interest rate policy. It is saying that these two things are separate. But it is also saying that both of these things are "data-dependent". Well how should the market then distinguish them, assuming that the data they are both dependent upon is the very same data?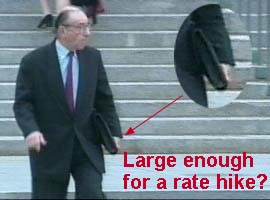 Incomprehensible.
This has become a global guessing game that makes no sense at all to play. If this is the Fed being "transparent," I'll take a return to the Greenspan briefcase indicator.
To expect a financial system without glitches and hiccups would be silly, but is it silly for us to expect a bit more expert communication? Especially from the people who literally run the financial markets and the economy? Surely, we should expect better than this.
***
editor's note: I made it through this whole post without posting a YouTube clip from Cool Hand Luke. I hope that other bloggers will learn similar restraint, there is nothing worse in all of god's creation than a blog post with a video clip in the middle of it. The first rule of communicating is not annoying people during the conveyance of your message (or at least it should be).