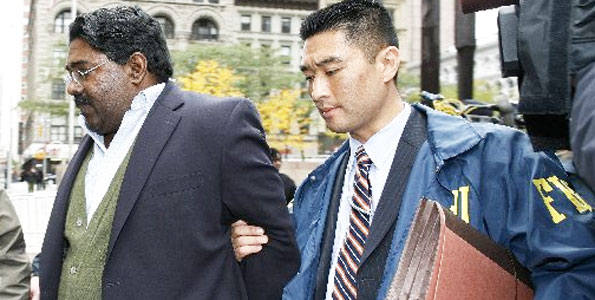 (Special Agent BJ Kang gets his man)
I'm just finishing up Charlie Gasparino's new book, Circle of Friends
, and it's easily my favorite financial book of the summer. I have two kids under ten so I have to choose the books I attempt to finish wisely – this is the best one I've read in awhile.
The amazing story of this era's historic wave of insider trading required just the right combination of Street smarts and reporting know-how to be told correctly. To truly understand how pervasive this practice was around the hedge fund and brokerage community, we needed a veteran Wall Street beat reporter who knew all the players involved and understood their motivations.  To be brought so deep into the process of investigating and catching the crooks, we needed an author as equally at home with the prosecutors as he is with the pre-dawn raiders who've kicked down the doors.
Under these circumstances, only Charlie Gasparino could've possibly written this book – a potent pairing of a ripping-good tale relayed by the perfect storyteller for the topic.
In 'Circle of Friends', we watch Preet Bharara, Raj Rajaratnam, Steve Cohen and other boldfaced names in action.
We also meet:
Sanjay Wadhwa – a lone forensic accounting specialist at the SEC who tirelessly pursued a trail of suspicious trades down the bureaucratic rabbit hole before uncovering something massive.
Roomy Khan – a high-flying femme fatale tipster with connections all over Silicon Valley that were easily exploited for trading profits.
David Chaves, aka "The Velvet Fist" – the federal officer who has calmly and gently let some of the nation's biggest white collar rogues know just how screwed they were.
BJ Kang – an ambitious young FBI man who understands the importance of bringing in the SEC to work on financial cases in order to see the whole puzzle.
Danielle Chiese – slutbag hedge fund moll who'd entrapped executives from both IBM and AMD with her fading sexual wiles, bragging openly about these conquests and the information they'd generated.
David Slaine – a hot-headed tough guy trader who'd sold out all of his high-powered hedge fund friends and wiretapped them after the threat of never seeing his daughter again.
David Makol – considered one of the top "flippers" at the FBI, an agent who'd sidle up next to his targets at a bagel store or while they were out walking the dog.
Through these great characters and lots of important historical context, we learn about how insider trading works and why the government's investigators have elevated it to such a high priority. We are taken into interrogation rooms and court houses and law enforcement strategy sessions. We are listening in to cell phone calls and intercepting incriminating instant messages.
While 'Circle of Friends' is a must-read book for all traders and investors, it is also completely relatable and readable for people who follow very little about the stock market on a regular basis. Gasparino has outdone himself here.
I highly recommend downloading or picking it up today, you will love it.
Buy it on Amazon:
Circle of Friends: The Massive Federal Crackdown on Insider Trading—and Why the Markets Always Work Against the Little Guy