Savita Subramanian's Quant Strategies group at BAML took a look at some of the most popular valuation metrics to determine whether or not the US stock market was as expensive as many have been claiming of late.
14 of 15 measures say S&P 500 is fair to undervalued
We have examined a broad universe of valuation metrics to assess whether any are
suggesting the market is overvalued. Of the 15 valuation metrics we analyze, only
one suggests that stocks are expensive vs. history. The majority indicate that the
market is still trading below or in-line with historical norms, suggesting that the rally
has chiefly been driven by a recovery in multiples from very depressed levels. Of the
most commonly cited metrics, stocks are still trading at a discount to history on Price
to Earnings (trailing, forward and normalized), Price to Book, EV/EBITDA and P/E to
Growth. See Table 1 inside for details.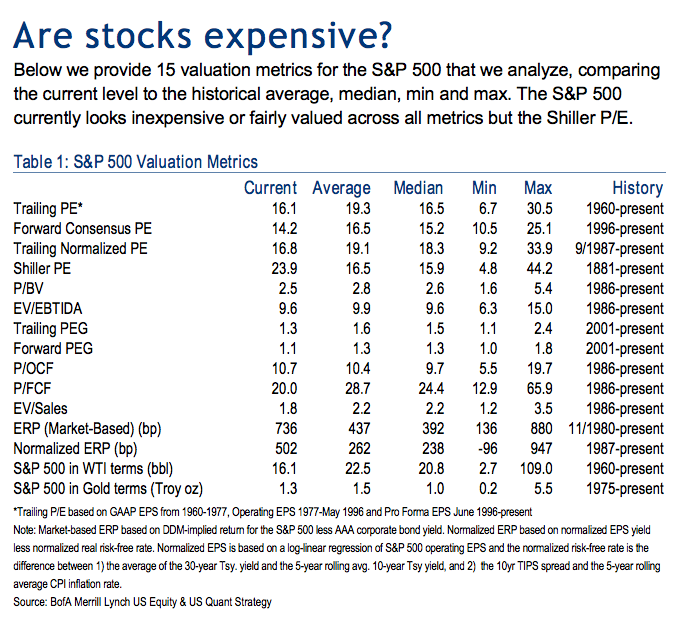 Josh here – the 15th measure, Shiller CAPE, does suggest we are expensive – but it is dismissible because the dragdown from 2008 produces an earnings number of $70, worse than even a recessionary atmosphere would generate, in Subramanian's view.
Matt Boesler beat me to this chart, his write up is here:
BofA: 'The Market Is Far From Overvalued' Based On Almost Every Popular Metric (Business Insider)