Twitter has just put up a job opening for a "financial reporting manager" overnight, the kind of position a corporation would need to fill if the filing of S-1's were in its immediate future.
No one should be surprised at the timing.
In September 2012, Twitter was going out of its way to let the media know that it had no interest in going public whatsoever. These protestations coincided neatly with Facebook shares printing their all-time lows in the 20's, having been almost cut in half from their IPO just five months prior.
But now things have changed. Facebook has shot back up to within $1 per share of that public offering price and so the Twitter IPO machinery has been switched on.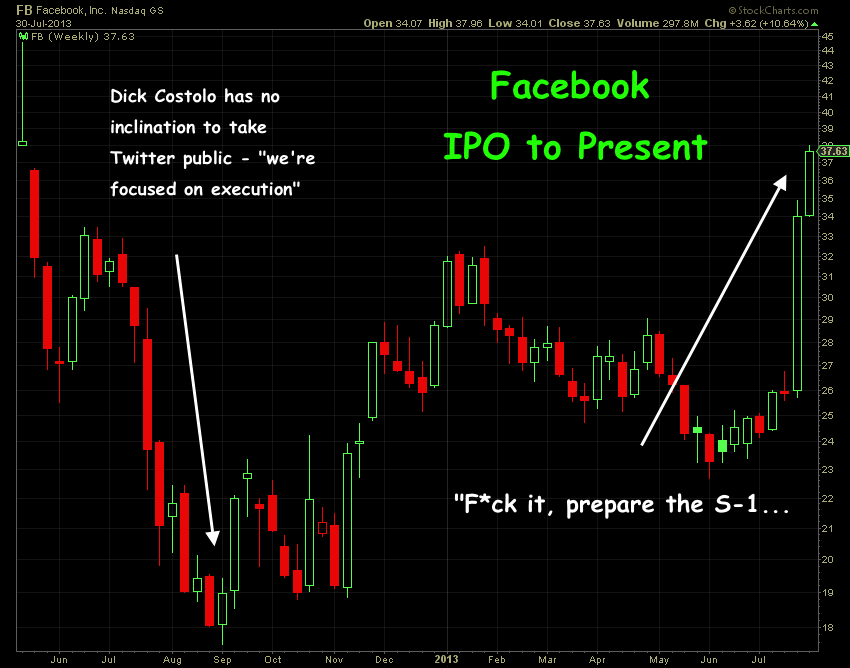 The name of the game is to get as much as you can, when you can. Don't think Wall Street's bankers weren't blowing up Twitter CEO Dick Costolo's phone last week as Facebook jumped 30% the day after earnings.
Twitter's going to get on the fast track this fall, watch and learn. And they will raise a lot more than the current value of $10 billion should Facebook shares take out that $38 IPO price.