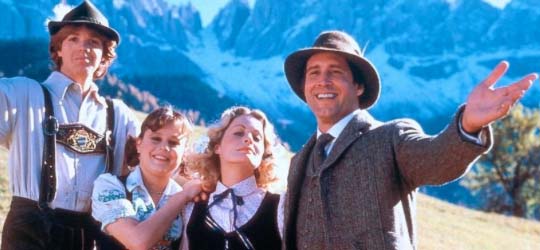 In May, we began talking bullishly about European stocks and put a position on for select accounts. As Buffett said about his recent European stock buys, the news hadn't gotten better but the prices sure had.
The valuations were absurdly low relative to what investors are paying for the US and Japan.  Price to earnings ratios – on both a trailing-12 months basis and cyclically adjusted over ten years – are substantially lower for Euro stocks than for their US counterparts. At the same time, dividend yields in Europe are significantly higher.
In addition, you'd have to leave earth to find a more hated asset class. Everyone's underweight Europe – they think it's the "conservative" thing to do while they chase the Russell 2000 at 20 times earnings. Meanwhile it's the largest economy on earth – 760 million people in 48 countries producing $16 trillion in GDP.
Doesn't matter, no one wants it at any price. And this is the key – because sentiment explains a lot of the move we've had in the S&P 500. Multiple expansion is a symptom of improving emotional attitudes and perceptions. It's been a main ingredient for our domestic rally in recent years. By this spring, sentiment around European stocks had turned from pitch black to an apathetic shade of gray. The whole geography left for dead.
But Buffett was buying and so were we and a small handful of other forward-thinking pros were doing the same. Byron Wein's been writing positively about the European stock market in his letter to Blackstone clients (see: The Smartest Man is Bullish on Europe). Russ Koesterich has become lukewarm to the idea from his perch at BlackRock (although not yet committal). WisdomTree managed to get two funds out the door – HEDJ, which is the hedged-euro, long equity thing like what they've done for Japan. They also just launched a dedicated United Kingdom one (long British stocks, short the pound).
I mentioned the Europe bet on TV a few times and got all kinds of incredulous looks. A producer asked if I was joking.
Its too early to say how early we were (or are) just yet. The economy is still contracting even though recent data (consumer confidence, bank earnings, manufacturing sentiment) is showing improvement. Our assumption was that things would get worse before they got better (affording us chances to buy dips), but that you had to plant a flag. It's been a performance drag on our more aggressive accounts as US stocks have just absolutely gone berserk  – but this is the way the game works.
And now….now everyone wants in on the action.
I'll give you two things to consider this evening…
First, the positives: My friend Cardiff Garcia points to the Euro Positivity having become the new hotness this past week:
An early trickle of cautiously hopeful research notes about Europe's economic situation has become a monsoon the past week.

It follows the not-atrocious PMI and bank lending surveys, the ECB collateral rule changes meant to shift more credit towards the SMEs, the expectations-beating Spanish unemployment numbers, and a few other data points.

We excerpt at length from some of the best below…
Keep reading:
In Europe, the case for….optimism? 
And here's the negative, via Jeff Kleintop at LPL Financial.
Jeff points out that some of the more recent improvements are only skin-deep (Jeff, your graphics department is amazing!):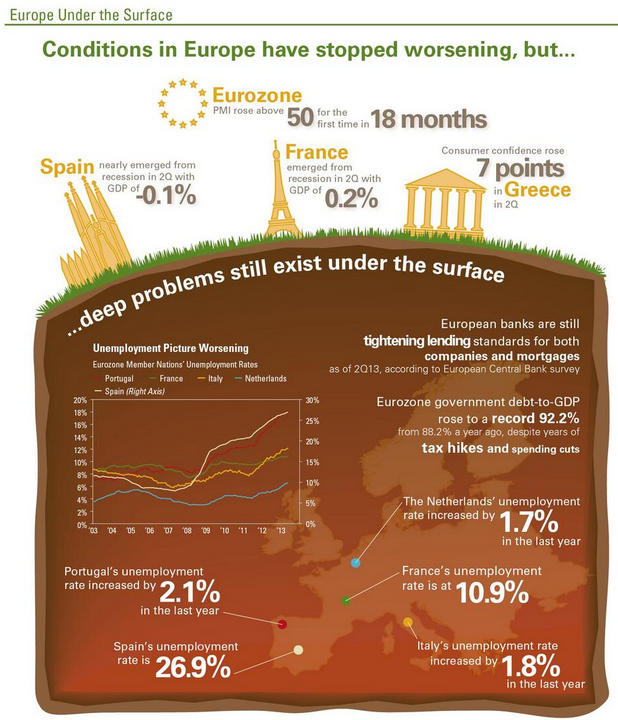 Bottom line, this is not an easy trade to make. The headlines still suck and could get worse during the ramp-up to the German elections in September. We already know that Merkel will say whatever she has to in order to placate the hardliners, but that afterwards her stance toward austerity will probably soften.  However…should the Northern Europeans re-commit to their harsh, failed policies and keep pushing around with Greece, you'll know the trade is wrong.
Let me emphasize that no one should read anything written here (or anywhere else) and start making investments for themselves. Do your own research, consider your own circumstances and risk tolerance and be the boss of your own affairs.
Be careful with Europe – there's not a field on the entire continent that doesn't have a mass grave full of soldiers or plague victims beneath it.