Bank of America Merrill Lynch's Stephen Suttmeier's latest full-market technical overview is out and he remains constructive on the bigger trend still in-force going back to the 2009 low. The technical damage done in the equity markets has not changed much for the big picture and the repair of last week has gone a long way toward validating the old channel.
One of the primary bullish factors is market breadth, which regular readers know that I watch very closely as well. When markets are advancing, we want them doing so with a healthy underlying push being accomplished by many stocks in many industries. When rallies begin to narrow, they become long in the tooth and primed for a reversal.
Here's BAML's read of what it considers to be a non-traditional breadth indicator – the S&P 500 equal-weighted vs the plain vanilla index:
Market breadth indicators remain constructive after new 52-week highs and the stocks only advance-decline lines confirmed the new S&P 500 highs in late May.

The S&P 500 Equal-weighted (EW) Index  relative to the S&P 500 Market cap weighted Index is a non-traditional  measure of market breadth that remains  bullish. When the S&P 500 EW is stronger than the S&P 500, this suggests that the market rally is driven by the bulk of the stocks in the S&P 500 and not just the  larger cap stocks in the index.  Continuing to hold the February and April 2013 lows in the S&P 500 EW vs. the S&P 500 keeps this pattern intact. The risk to the market would be if this relative ratio broke down below those supports and suggested narrowing market breadth.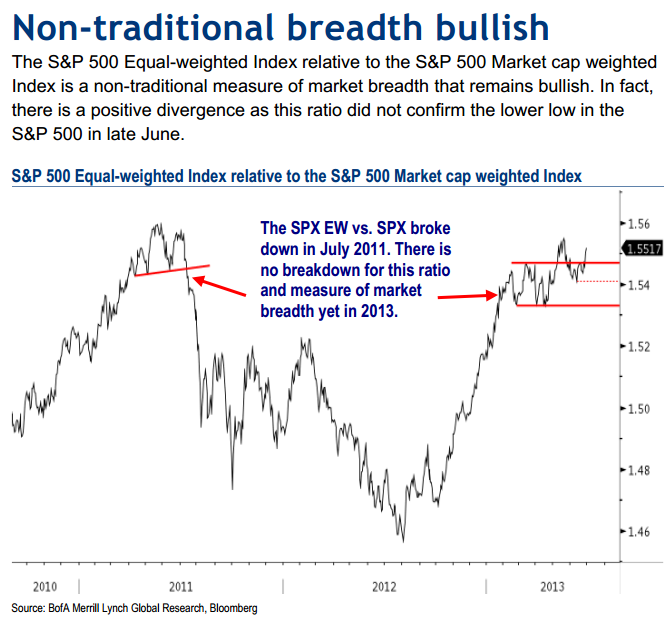 Source:
Market Analysis July 1st 2013 – Bank of America Merrill Lynch