Among the hardest trades on earth to put on right now, long emerging market stocks is perhaps the hardest.
First, because there's not a single country chart in the EMs of any size that looks even remotely promising. Most of them look like falling knives, some falling faster than others.
Second, the sheer volume of the anti-China, anti-Brazil, anti-Russia, anti-India sentiment is at screeching levels right now. US stocks seemingly go up everyday while EM stocks couldn't find a bottom in a Sir Mix-A-Lot video. US stocks are benefitting from central bank largesse while emerging economies are being hobbled by the resulting inflation. The optics of allocating there instead of here are bad enough, let alone the explanations you'll have to make should current trends persist. "Pain Trade" doesn't even begin to describe it.
Third, while EM markets are now "cheap" on both a relative and an absolute basis, they've been cheaper – even during times of greater economic growth – than they are now. Here's the chief strategist at Northern Trust on the current state of emerging market valuations (via Reuters):
Emerging-market stocks are trading at around 10 times this year's earnings, or a 32 percent discount relative to the Standard & Poor's 500-stock index. The asset class's historic low is about eight times earnings. Emerging markets have typically traded at a 20 percent discount to the S&P 500 since 2005. The price-to-book ratio of emerging market stocks on the MSCI stock index is also showing sharp undervaluation at 1.45, not far from the low of 1.36 hit during the depths of the financial crisis, according to Morgan Stanley data. That is still far higher than the 0.93 reached during the Asian crisis of 1997-98.
Lastly, the underperformance versus the S&P is incredible and everyone is highly aware of it. The MSCI emerging market benchmark everyone uses is down about 11.3% this year with a huge chunk of the drop having taken place this summer. This is versus MSCI's all-country world equity index, which is up 4.8% this year or the S&P 500, up 12.8% year-to-date. 
And the differences are even more stark over the last year: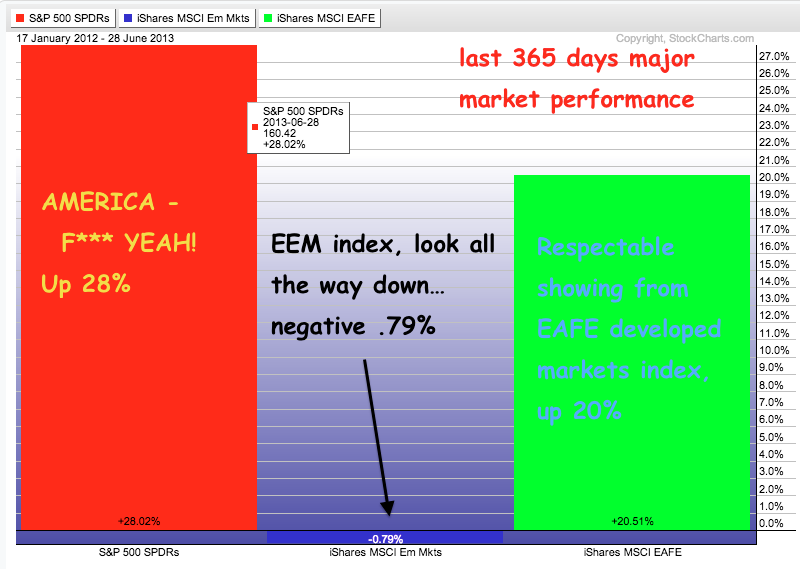 The bottom line – deteriorating sentiment, skyrocketing volatility, declining economic growth / fundamentals and the relative ease of being all in US stocks have combined to make emerging markets the impossible trade, hardest on earth.
If you're a professional and you're being judged quarter by quarter, you cannot be buying in to the emerging markets right now. If, however, you've got at least a three- to five-year time horizon, you cannot afford not to. Despite whatever pain may come in the near future.