Successful investing requires you to do the most counter-intuitive thing in the world, something that totally runs against human nature and the fight-or-flight instinct that's been bred into our species over eons – being excited for down-markets and bad news.
By my own informal estimation, I would say that 98 people out of 100 see bad news and stocks dropping as a sign they should stop investing and begin holding all their assets as cash. The other two crack huge smiles when markets begin to get creamed and prepare to buy.
Those two are going to do better than everyone else over time because they are able to do what everyone else cannot.
Carl Richards has an amazing sketch illustrating the mindset that the media reinforces of only buying when "things are good":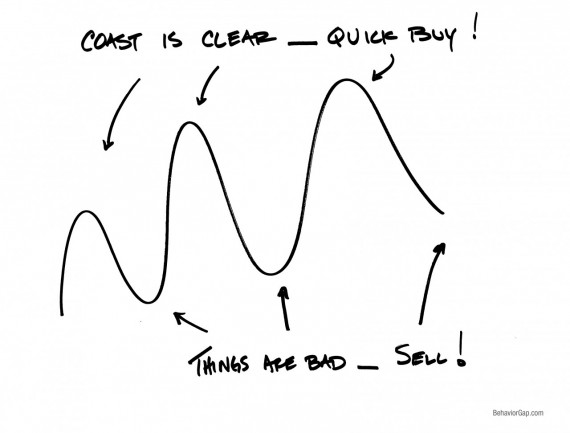 The truth is, if your time horizon is long and you are saving a chunk of what you make each year, the very best thing you can do is ignore whether or not "the coast is clear" and simply continue to leg in to stocks. Not every purchase you make will take place at a great time, but so what? Won't mean a thing in twenty years – so long as you keep going.
Fidelity is out with an amazing study I want to show you.  They look at 12 million individual 401(k) plan participants over the last five years and measure how important their behavior was to the recoveries of their retirement accounts:
The S&P 500 closed at 677 on March 9, 2009, the market bottom, increasing to 1,569 on March 31, 2013.2

Many preretirees, particularly those who were age 55 and older, were vulnerable to setbacks during the market decline. And yet, many of them saw their balances recover. For employed preretirees who have invested continuously over the previous 10-year period, average balances over the past five years increased from $169,100 at the end of the first quarter of 2008 to $255,000 on March 31, 2013, a 51% increase. Fifty-seven percent of that increase was due to market action, while the remaining 43% was due to net contributions (participant and employer contributions, less any withdrawals). For this set of 10-year continuous preretirees, the average employee contribution (excluding the employer portion) per contributing participant was $9,630 for the 12 months through the first quarter (Q1) of 2013, up from $8,410 for the 12 months through Q1 2008.

While preretirees overall have recovered well since the financial crisis, younger participants who could afford to have higher equity exposures reaped even larger increases in balances. For 10-year continuous Gen-Y3participants, the average balance increased 145% between Q1 2008 and Q1 2013. For Gen-X4 participants, this increase was 97%.
Here's the chart: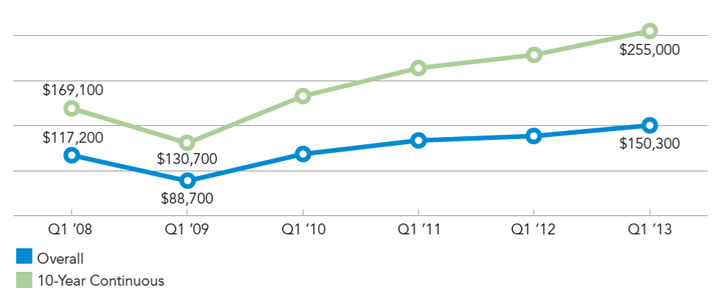 Bottom line – behavior, ie continuing to contribute through the difficult conditions of the Great Recession and Credit Crisis, was about half the battle. Market performance did the half of the heavy lifting and those who did the right thing have ben richly rewarded for it. These simple investors don't realize it, but they have outperformed almost every hedge fund manager and smart-ass market-timer in the universe.
Who's the Dumb Money now?
Source: