Traders love false breakouts and false breakdowns because the reversals once a move fails can be swift and rewarding for those who are positioned for the failure. That combination of directional volatility and quickness is the trading equivalent of chocolate.
What we could be looking at now is the Mother of All Failed Moves – an S&P false breakout above the historic 1576 level you've read about in your textbooks since the third grade.
It is too early to tell whether or not the False Breakout camp will be right, but this morning it certainly "feels" like they will.
Three sightings so far worth noting:
What happens if this recent move in the S&P500 above the 2007 highs was a false breakout? What then? On the way up, we were all hearing about this 2007 resistance. How we had to acknowledge it and at least correct when we arrived there. But then we got through and held above it for a couple of months, and everyone forgets. So does this mean the old resistance no longer exists and it should be ignored?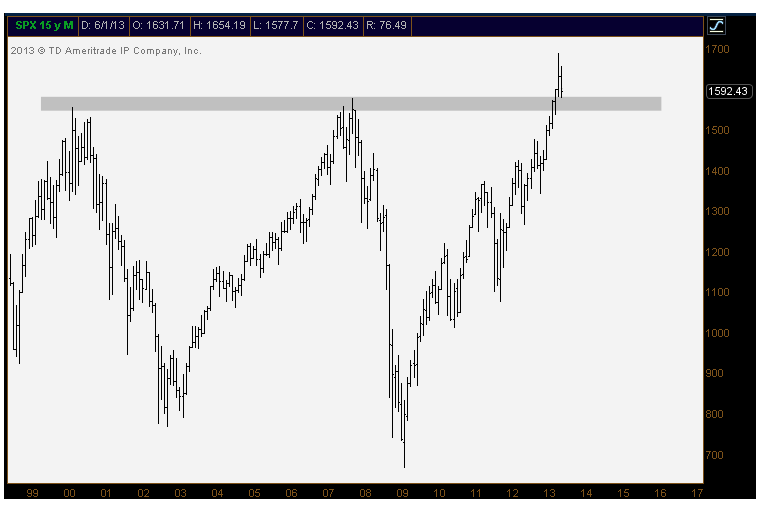 Enis Taner at RiskReversal.com:
The SPX blew through 1575, and added another 100 points to the all-time high for good measure.  But today, we are right back to 1575.  The low from Friday was 1577.70, and right now, SPX futures are indicating an open around 1577 in the SPX cash index.  We could be re-testing the breakout level, and buyers become more aggressive here, holding the long-term breakout in tact. Or the 1575 level breaks, and the chart takes on the look of an ominous false breakout: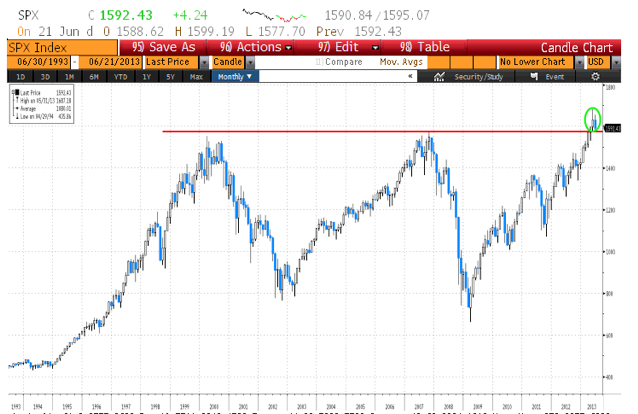 Jonathan Krinksy at Miller Tabak: 
We have been mentioning 1576 as a likely downside objective, largely because it represented a major resistance area from the 2007 highs. The 100 Day Moving Average also came in at 1577 which added to the significance of the level. Of course, when all eyes are on a given level, especially one such as 1576 (chart page 2), we know that the market rarely cooperates. The bounce off that support area on Friday seemed rather muted, and in fact we are seeing continued downside follow through in the overnight session.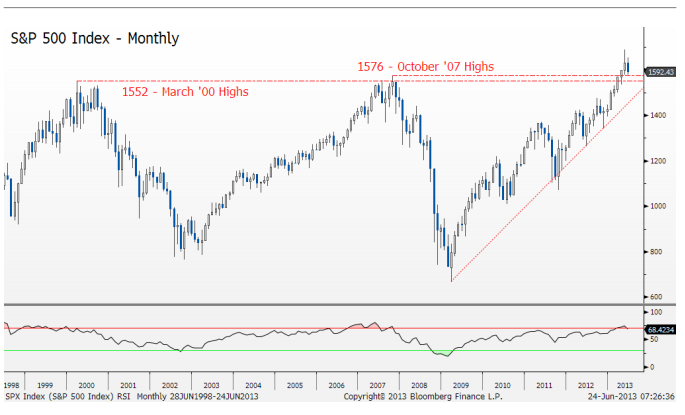 Josh here – Seems as though you'll be hearing more on this throughout the day / week.