Jonathan Krinksy, technical analyst at Miller Tabak + Co, is out with an interesting statistic discussing just how aberrational the turmoil of this week has been.
He notes that having a "down 95% day" wherein 95% of all trading volume is in declining stocks – happens very infrequently. And having a down 95% day follow a down 92% day is even more rare! 
But this action in-and-of-itself cannot quite be characterized as being capituluatory or bottom-forming just yet.
***
Back to Back 90% Down Days 
The fact that 95% of NYSE composite volume was in declining stocks on Thursday was quite unusual, and has only been exceeded by higher levels 19 times since 2010. That the 95% reading followed a 92% reading, however, is even more uncommon. We found only 5 instances of back to back 90% + readings in the last nine years.
Those were:
10/31/11 + 11/1/11
9/30/11 + 10/3/11
11/19/08 + 11/20/08
11/5/08 + 11/6/08
10/6/08 + 10/7/08
The September and October 2011 instances both marked short-term lows. The SPX rallied 17% from the October 3rd close to the October 27th high, and then 5% from the November 1st low to November 8th high. The October and early November 2008 instances, however, were in the midst of a market free-fall, and did not lead to much support. The November 19th and 20th occurrences led to a nearly 20% rally over the following 5 sessions.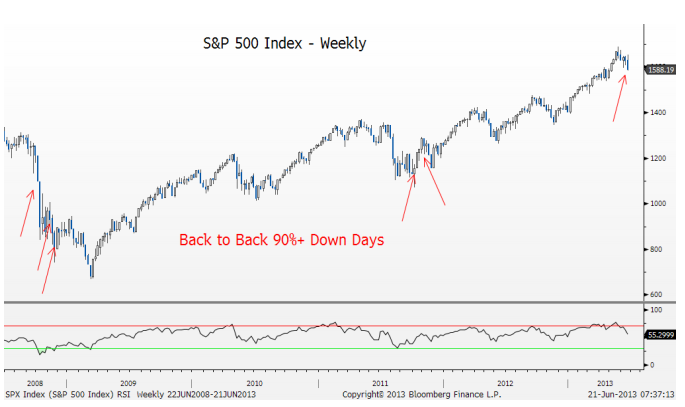 Bottom Line
While extreme readings like we have seen over the past few days are tempting to call out a short-term low, we are hesitant to do so based on the larger picture. We have just broken the psychological 1600 level after two prior tests, which now creates short-term resistance in the 1598 to 1608 range. There should be downside support in the 1550-1575 area, which marked major resistance over the last decade. In our view, that is a better entry to look for some type of capitulatory low.
***
Thanks Jon!