Aside from a few pockets speculative asset prices (mortgage REITs come to mind), the Fed really does have plenty of time to use its mouth rather than its actual policy toolkit.
One way of demonstrating this is to look at Core Inflation, as Dave Wilson's recent Chart of the Day does. Looking at inflation growth from the end of the recent recession and then comparing it to the rate during previous expansions, you're forced to ask yourself "what's the rush?" This inability to create inflation is the hallmark of a liquidity trap – so long as the banks won't speed velocity by lending these dollars, the Fed, paradoxically, can't make enough of them.
As the CHART OF THE DAY illustrates, the U.S. core consumer
price index's increase since the latest recession ended in June
2009 is the smallest for any multiyear recovery since the 1970s.
The gauge of prices excluding food and energy rose 6.3 percent
through April, according to the Labor Department…

Core consumer prices were 7 percent higher at the same
point in the previous recovery, which started in December 2001,
as the chart shows. The biggest increase in the inflation gauge
was 29 percent, posted in a recovery that began in April 1975.
(click to embiggen!)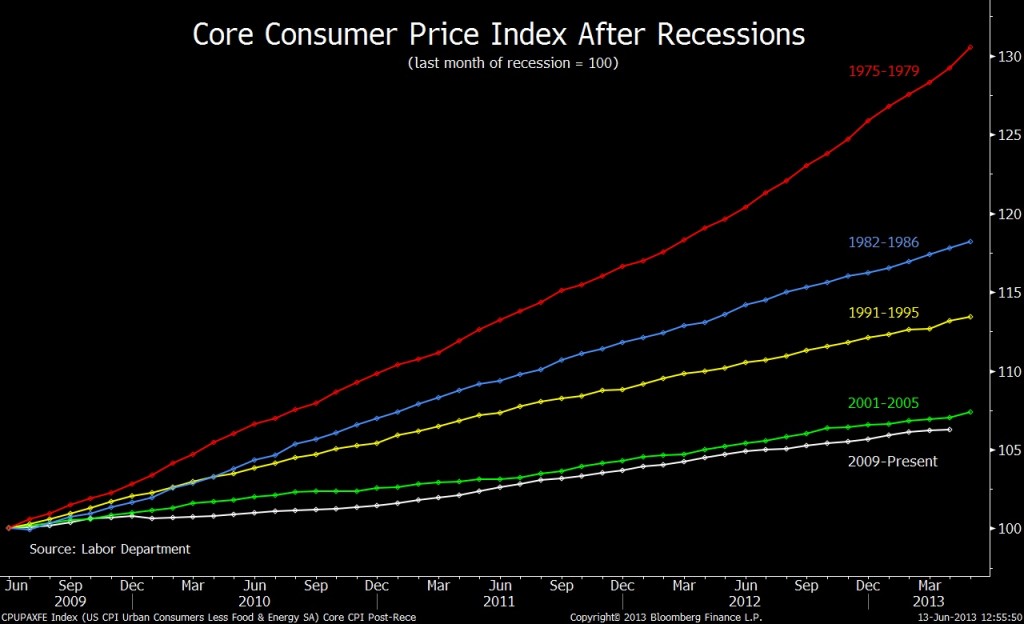 Source:
Bloomberg