Yesterday's action was significant in that it was the second biggest one-day rally of the year and breadth-wise it was a 90% up day, the best we've seen since January 2nd.
But technically speaking we're not quite out of the woods yet says Jonathan Krinsky, the Chief Technician at Miller Tabak. Here's why:
If we had to guess, we would say this market is frustrating the majority of participants. We came in yesterday on the heels of the Nikkei being down over 6%, and the S&P was testing a major support zone. The S&P futures held the low from last week (1591), creating a double bottom, and it was off to the races for the 2nd best day of the year, moving over 40 handles from low to high. While the market appear to have ADD, that is the hallmark of a corrective period.

The result of Thursday's reversal is that nearly all of the major US indices now have a clear "higher low", vs. the June 6th low…

Despite the accumulation day for the SPX, there remains one major difference between the current correction and the others that we have seen throughout 2013: the duration. Even with the second best day of the year, the SPX was unable to exceed its 20 DMA. That makes 10 consecutive sessions underneath this moving average, which is now firmly downward sloping for the first time since last November. That 20 DMA is currently at 1643, and will be key to watch as we come into Friday's close.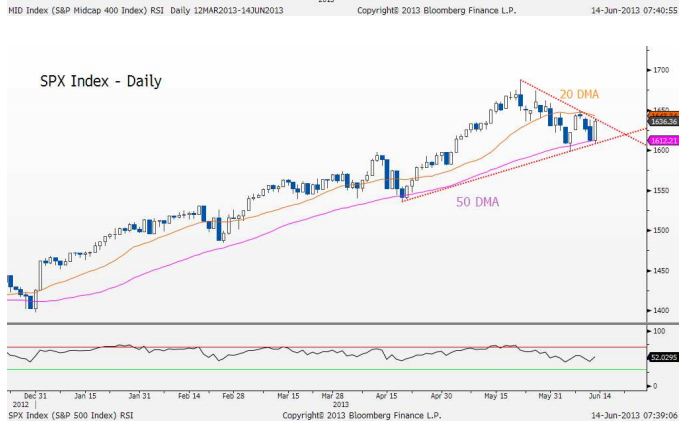 Source:
Miller Tabak & Co