The market is exhausted.
The pops have no verve, no… je ne sais quoi.
You learn to read the tape over years and decades, not months and quarters. Everyone who can do it sees this exhaustion, even without confirming data. Rallies are being dumped on and signs of "distribution" are everywhere.
Let's look at the TRIN and relative strength as short-term measures of how market participants "feel".
TRIN is the Traders Index also referred to as the Arms Index. It's advancers vs decliners divided by the volume of those advancers vs the volume of the decliners. The TRIN spikes when there is fear in the market, it is a ratio that moves inversely to price, in essence.
The TRIN hasn't really budged despite a few really awful days of selling. Bank of America's technical analyst Stephen Suttmeier points out that this lack of fear means we could have more downside risk.
As for relative strength, for the most part traders watch this on a  14 day period (RSI 14). It is a measure of momentum and divergences between a stock's price and its momentum can often signal the end of a trend, up or down. As for the S&P's RSI 14, it's basically the confirming the move lower and just barely hanging in there.
Suttmeier notes that 1600-1597 are the new support levels and the low 40's on RSI 14 need to hold. His chart from this morning below:
After a brief undercut of RSI support at 44 last week, the 14-day RSI on the S&P
500 ticked up to 54-55, which is now a near-term RSI resistance. Holding 44-42
on the 14-day RSI (closing basis) would keep the bull market price momentum
support intact. Below would break this support and warn of a deeper decline in the
S&P 500.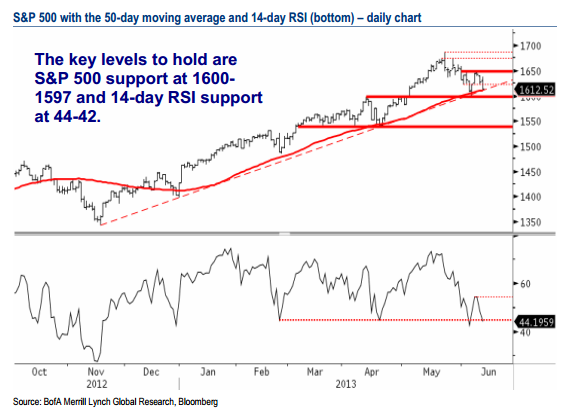 Josh here, too soon to tell which way this thing breaks. If momentum holds and we take off, how long can that really last without cooperation from global markets? How tough can stocks hang in there in the face of bond back-up fears continuing?
Something to think about.
Source:
Bank of America Merrill Lynch