No sooner had the tape begun to show signs of exhaustion after a few rough days than the Fed leaks its latest hug-n-kiss combo to buyers of risk assets via the anointed high priest of Fed Whispering, Jon Hilsenrath:
Fed Likely to Push Back on Market Expectations of Rate Increase
the Fed is talking about pulling back on its $85 billion-per-month bond-buying program. The chatter about pulling back the bond program has pushed up a wide range of interest rates and appears to have investors second-guessing the Fed's broader commitment to keeping rates low.This is exactly what the Fed doesn't want. Officials see bond buying as added fuel they are providing to a limp economy. Once the economy is strong enough to live without the added fuel, they still expect to keep rates low to ensure the economy keeps moving forward.

It's a point Chairman Ben Bernanke has sought to emphasize…
I'll translate: No taper, white boy.
I foresaw this last night, not because I'm a genius, just because it seemed the damage in the alternative yield stuff (REITs, Utes etc) was way out of control. My tweet: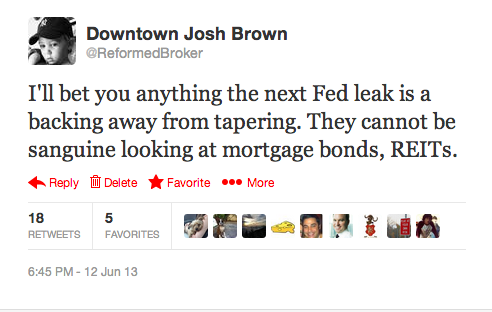 The lesson here, by the way, is that the Fed is watching the stock market like I watch my wife on the "baby monitors" from my cellphone while I'm at work – incessantly.
The Dow has now shot up 200 points and doesn't give a f*** about anything other than its precious, limitless stimulus.
Game back on?
Source: