Like Simon & Garfunkel, developed and emerging markets can only remain decoupled for so long, until their undeniable interdependence snaps them right back together again. This is the new reality of global markets, you can throw out your playbook from the 1990's.
What's really holding back global growth and risk markets, according to a small but growing cadre of spectators, is the utter lack of participation and demand reciprocity on the part of the Emerging Markets – which have become highly important to global capital expenditures and even mass consumerism.
Below, the utter malaise of EEM (emerging markets stocks, in dark blue) versus the US and even Europe since the Thanksgiving week blast-off that launched the rally: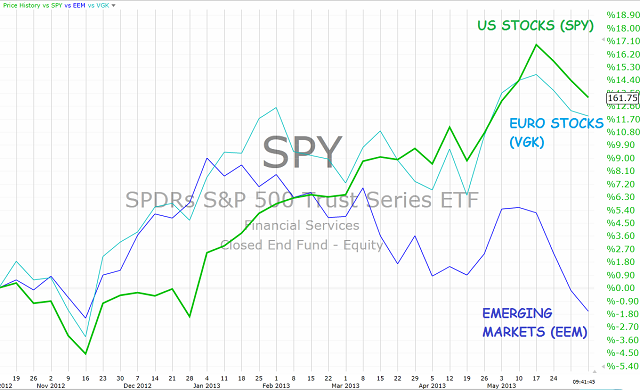 Sorry, no decoupling here. Either EM stocks pick up or the developed market rally is out of business for now.
This morning, in the Telegraph, perma-bull Ambrose Evans-Pritchard explains the issue (in his typically hyperbolic fashion):
There is a wicked double edge to the emerging-market boom that has so enthralled us for the past decade. The economies of these rising powers are by now big enough to shake the entire world if they come off the rails.

Some feared this might happen in 1998 when Russia defaulted and East Asia's currency crisis span out of control, a drama precipitated by a rising dollar. Contagion spread to western Europe, causing the pre-euro "convergence play" to snap back violently.

The US hedge fund Long Term Capital Management was caught $100bn (£65bn) short as bond spreads surged in Club Med, and equities plunged. The threat of a chain reaction was serious enough to force emergency rate cuts by the Fed. The crisis abated.

Asia's economy is a much bigger beast today, and so is the emerging market (EM) universe.
He makes an important point here that many overlook. If EM nations are truly the new "fulcrum of risk", then this would explain a lot of things, especially the commodities crush and the continued appearance of disinflation.
Source:
Emerging markets displace Europe as fulcrum of world risk (Telegraph)