I love this so much I had to nick it from my friend Cullen's site. You're not completely immune to this kind of behavior nor am I, keep it real.
The key is to recognize this happening and to be bigger than it, above it:
In 2009 buy and hold died.
Almost everyone became a trader at the trough of the crisis.
Then it was "buy the dips, sell the rips".
Then it was all about high quality dividend names.
Then it was a "stock pickers market".
Now buy and hold is all you hear about from anyone.
"Stocks for the long run!"
Then long only via defensive names will be the only game in town.
Then buy and hold will die.
Then short strategies dominate.
Then tactical approaches win, hedge funds are your only savior, etc, etc.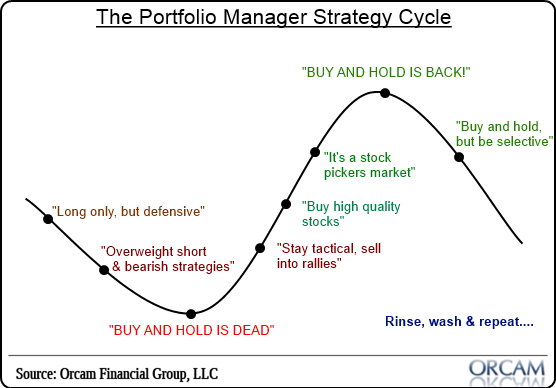 Source: