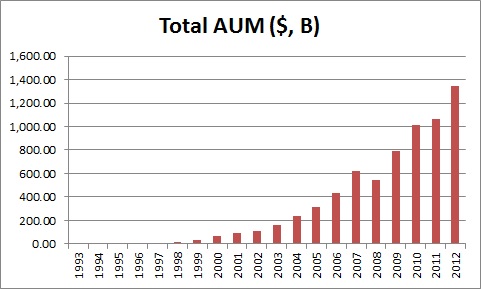 From Index Universe:
Total U.S. ETF assets reached a $1.5 trillion milestone earlier this month—they're at a record $1.537 as of this morning…

The amount of money pouring into ETFs so far in 2013 is coming at a fast-enough pace to erase last year's record of $188 billion.

Indeed, it's taken 2 1/2 years for total assets to get from $1 trillion to $1.5 trillion after it took nearly 18 years to reach the $1 trillion milestone.
I couldn't run my practice the way I do without ETFs, certainly not as cost-efficiently or flexibly. Godspeed and good luck to the industry. See you at $2 trillion!
Source:
Assessing The $1.5 Trillion ETF Milestone  (Index Universe)