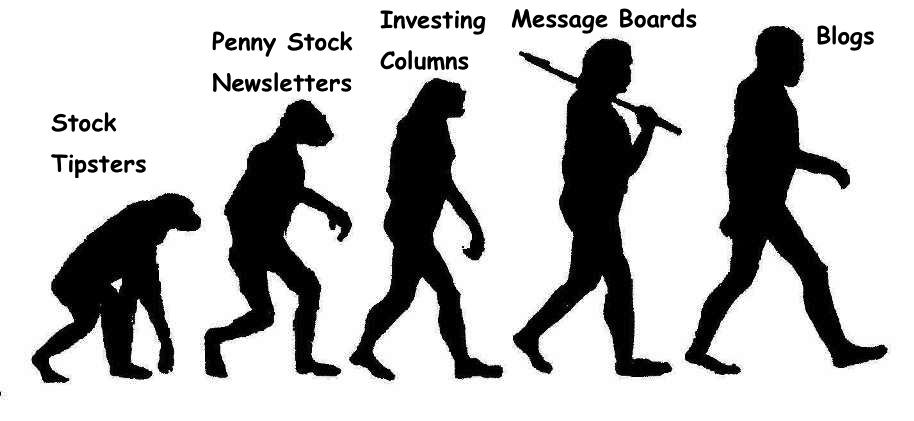 In the beginning, there was TheStreet.com and virtually everything posted there contained a buy or a sell call, an investment idea or a trade.
And then there was Minyanville and the message boards of Yahoo Finance, Silicon Investor and Raging Bull, and, of course, the stockpicking foundries of Zack's, the Motley Fool and Seeking Alpha. And we loved these sites and communities and we picked up on the lingo of investing and we even learned to duck at the occasional flying chair when there was dissension in the ranks of the columnists and commenters.
Fifteen years have passed since those early days and now the financial web has developed into something much deeper and more complex than just stock-picking. But many of the consumers and participants on the financial web have not yet grown up. If anything, many have regressed. It is as though they've learned nothing or they've made the conscious choice not to learn anything at all while the rest of us have evolved.
This is Cro-Magnon Investor Man. He encounters a nuanced market opinion and he immediately classifies it as a "buy" or "sell" call. He boisterously agrees with what he reads if it accords with his existing posture, or he shouts it down if it does not. It is a reflex, he cannot help it. He is stuck in a loop, incapable of rising above his base emotional responses to each opinion he comes across.
To Cro-Magnon Investor Man, everything is black or white, buy or sell, bull or bear. If you write optimistically or even reasonably, you are a permabull idiot. If you write skeptically or cautiously, you are a permabear doomer predicting a crash. There is no in-between with Cro-Magnon Investor Man and good luck climbing out of one of these bins once you've been tossed in.
Every opinion that contradicts Cro-Magnon Investor Man's own is automatically a scam, a tout, or a pump-and-dump.
Every negative comment made about an investment that Cro-Magnon Investor Man favors is a trick or a clandestine maneuver by the shorts.
This is an impossible audience to write for. They leave their homebases and caves on the Yahoo Finance message boards, hunched over and gimping along across the plains with spear in hand, looking for a quarrel or a carcass to drag back home. They  invade the comment sections of our blogs and Twitter streams, a teeming mass of ostrogoths and huns along the border of our Enlightenment Empire.
The good news is that Cro-Magnon Investor Man is easy to spot. He (and it is always a he) is quick to get personal and vicious – the opinions of others especially incense him when they appear to be more well thought-out than whatever assumptions he's been acting on. And the Cro Magnon Investor Man who is losing money is especially visible – he'll be picking fights with multiple commenters on the same post, incessantly refreshing the page and waiting to ambush whosoever should have the ill fortune to leave the next contrary remark.
The mentality of Cro-Magnon Investor Man has not changed in the last fifteen years. He is incapable of holding opposing thoughts in his mind concurrently and cannot contain his emotions when someone else can. Nuance is confusing and everything the blogger writes must be 100% fully-formed and committed to – Cro-Magnon Investor Man has a zero-tolerance policy against any opinion that is qualified, conditional or in any way less than absolute.
"But you said something that doesn't fit my preconceived political beliefs or notion of how markets work."
"And you changed your mind! Weren't you once saying something else a few months ago? You're flip-flopping!"
"I don't understand, are you saying to buy or sell? TELL ME WHAT TO DO LIKE CRAMER! NOW! SO I CAN HOLD YOU ACCOUNTABLE FOR YEARS AND NEVER LET IT GO IF SOMETHING YOU THINK TODAY DOESN'T MAGICALLY HAPPEN BY TOMORROW!"
I've tried to reason with these people, I can assure you it is an exercise in futility. Cro-Magnon Investor Man isn't looking for discourse or a healthy clash of ideas, he is looking for a platform because no one in real life values his opinion. He is looking for a place to vent when the market is going against him. He is jealous and looking to lash out. He is looking for someone to take his frustrations out on.
So what can we do?
My policy is that I no longer negotiate with comment section terrorists. I can't fix crazy and I can't educate the willfully ignorant. Nor do I care to.
And so Cro-Magnon Investor Man will be blocked and blacklisted with extreme prejudice. His comments will be deleted, currently and retroactively, when they appear. This is usually easy to do, as your typical Cro-Magnon Investor Man creates his comment board identity on the same day that he lashes out with his first comment, it is almost never attached to an actual name or working email address. This is because while Cro-Magnon Investor Man is furious, filled with rage and quite possibly drunk, he is also a cowardly pussy who wouldn't dare put his name on his rants or look you in the eyes.
From now on, I have resolved not to engage, nor will I let the other normal commenters on my blog be assaulted. Debate is good, it is what we all crave and it's why we've ventured out onto the web in the first place. But when the line is crossed and debate turns to vitriol, I've decided to act. I will do what I can to discourage it on my site, I hope that you will all do the same in the forums and streams of your own.
Cro-Magnon Investor Man, thus rejected and robbed of his platform, will find his way back to the 90's message boards and stockpicking 1.0 websites where he belongs. Once returned to his ancestral homeland, he can spend his days grunting and whipping a club at his anonymous enemies, real or imagined.
And we can get back to our discussions and our quest for deeper understanding.