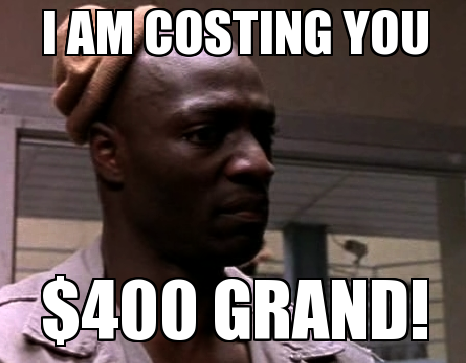 The market strategists at ConvergEx Group, a global brokerage company based in New York, have put together quite a run of stats on America's prison population and what it's costing us.
The numbers are, as you might imagine, outrageous. The War on Drugs has had a disastrous outcome in exchange for less-than-zero success. Hopefully the decriminalization of marijuana will put a dent in the madness.
Okay, some stats via ConvergEx:
* The US is the world's "Incarceration Nation", with 760 people in prison for every 100,000 citizens and a total of almost 7 million adults in the correctional system as of 2012 – the largest ratio and absolute number in the world.
* The U.S. outpaces every other country on the planet in terms of both the absolute number of people in prison and the percentage of the population that is incarcerated. The US prison population actually used to be about on par with other countries, with only 0.8% of citizens in the correctional population in 1980, but this number has multiplied three-fold since the beginning of the "War on Drugs" and has only recently started to wane since hitting a peak of 7.3 million in 2008.
* The cost: Upwards of $39 billion in taxpayer dollars, according to a survey by the VERA Institute of Justice. This money goes to upkeep of facilities, healthcare of the prison population and corrections employees, and state contributions to pensions on behalf of corrections departments, to name a few.
* The BJS reports that $6.6 billion was spent on federal prisons in 2012, while VERA estimates that about $39 billion was spent on state prisons in FY2010, the latest available data.
* Unfortunately, prison facilities in the US were not built to house this many inmates: federal prisons are currently operating at 138% capacity, and states at an average of 109%.
* Louisiana, though, takes the cake for "most incarcerated state": 865 persons are in jail or prison per 100,000 citizens. The cost: $698.4 million in Louisiana – about 2.6% of all state spending.
* Interestingly, too, only about 75% of persons jailed in federal prisons in the US are actually US citizens, according to the Federal Bureau of Prisons. he cost: Based on the DOJ's estimate for per-inmate costs, more than $1.6 billion is spent every year on incarcerating non-US citizens.
* The most common crime for the federally incarcerated population is a drug offense (47.3%), followed by weapons and explosives (16.2%), then immigration (11.8%).
* Fortunately for the taxpayer's wallet, most prisoners (in federal prisons that is) are only sentenced for a period of 5-15 years. 14.2% stay for 3 years or less, and 19.1% are in for 15+ years: 3.0% of the entire prison population has been sentenced to life. The cost: While it is relatively simple to estimate the cost to US taxpayers of these inmates based on their stays in prison – an average of $141,615-$424,845 per inmate if they are jailed for 5-15 years – these inmates also rack up nearly $3 billion in attorney costs and legal fees for US taxpayers, according to the DOJ budget.
There's nothing that's not absurd about these numbers.
Source: