Rob Arnott and his Research Affiliates firm get the spotlight in this month's Mutual Fund Observer.
Charles Boccadoro, associate editor at the Observer, shows how Arnott and his team's seminal paper on organizing indexes based on something other than sheer size is a long-term winner…
Fundamental Indexation is the title of Mr. Arnott's 2005 paper with Jason Hsu and Philip Moore. It argues that capital allocated to stocks based on weights of price-insensitive fundamentals, such as book value, dividends, cash flow, and sales, outperforms cap-weighted SP500 by an average of 2% a year with similar volatilities. The following chart compares Power Shares FTSE RAFI US 1000 ETF (symbol: PRF), which is based on RA Fundamental Index (RAFI) of the Russell 1000 companies, with ETFs IWB and IVE: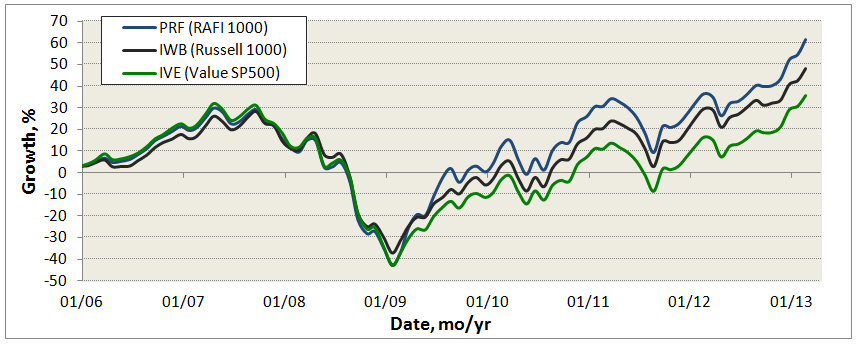 RAFI wins, delivering higher absolute and risk-adjusted returns. Are the higher returns a consequence of holding higher risk? That debate continues. "We remain agnostic as to the true driver of the Fundamental indexes' excess return over the cap-weighted indexes; we simply recognize that they outperformed significantly and with some consistency across diverse market and economic environments." A series of RAFIs exist today for many markets and they consistently beat their cap-weighed analogs.
I agree with the conclusions Rob has reached and the utility of an index that isn't heavily levered to the biggest, most overvalued components. In raging bull markets, cap-weighted (traditional) indices will have a temporary edge – think Apple in the first half of 2012. But over longer stretches, I believe that there is a better way to gain passive exposure so long as the costs are kept low.
We tend to use fundamentally-weighted indexes where appropriate at our shop, specifically equal-weights and dividend-weighted averages that we think change the risk/reward profile and eschew dirty beta for something more pristine and lower-vol.
Source: