LOL, before I forget, this was in the paper this week, don't tell anyone who's still stuck with the old narrative…
From the Wall Street Journal: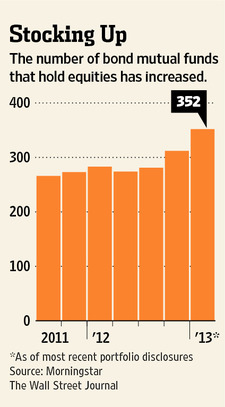 The number of bond funds that own stocks has surged to its highest point in at least 18 years, another sign that typically conservative investors are taking bigger risks to boost returns.
Regulators generally allow funds to hold a mix of assets, but the scale of bond funds' shift into stocks is unusual, fund experts said, and could expose investors to unexpected losses.
In all, 352 mutual funds that are classified by Morningstar Inc. as bond funds held stocks as of their last reporting date, up from 312 at the end of 2012 and 283 in the first quarter of 2012, according to the investment-research firm.
The rush into stocks illustrates the dilemma bond investors face. The bond market has rallied for much of the last 30 years, and yields, which move in the opposite direction of prices, stand near record lows.
When bond-fund managers buy stocks, "They're reaching for yield," in the form of dividends, said Russ Wermers, a finance professor at the University of Maryland who studies mutual funds.
Source: