The healthcare sector, a big overweight in the portfolios we manage, probably needs to take a breather, having outperformed the galaxy in the first part of 2013. But the secular trend in demand for drugs and care looks to be a one-way trade when viewed through the prism of developed-world demography and the rapid adoption of modern medicine in the emerging nations.
And so from that standpoint, we are willing to ride out shorter-term periods of underperformance (should they arise) so as to capture the bigger rewards of the future.
There's a great piece at Markit by Simon Colvin this week that talks about this secular story and includes the following forecast for the pharma sector's dividend growth:
One side effect of the guaranteed new term revenue from drug development and marketing has been the profits generated from the temporary monopolies afforded by patent protection.

While controversial, these high profits have enabled pharma firms to generate healthy dividends over the year, which are forecast to growth this fiscal year according to Markit Dividend.

Companies within the Stoxx 600 and S&P 500 pharmaceutical indices are set to raise payments by an average of 8% this fiscal year (with Abbott removed from the universe).

Only five firms are forecasted to hold payments compared to 16 which are forecasted to boost per share payment.

Overall the 23 Pharma firms in the two indexes are expected to yield an average of 2.8% in the following year.

The only firm forecast to cut its payment is Abbott Labs although this is driven by its spinoff of AbbVie. Markit is expecting the spun off company to pay $1.62 in the coming fiscal year, yielding a healthy 3.6% in the coming 12 months.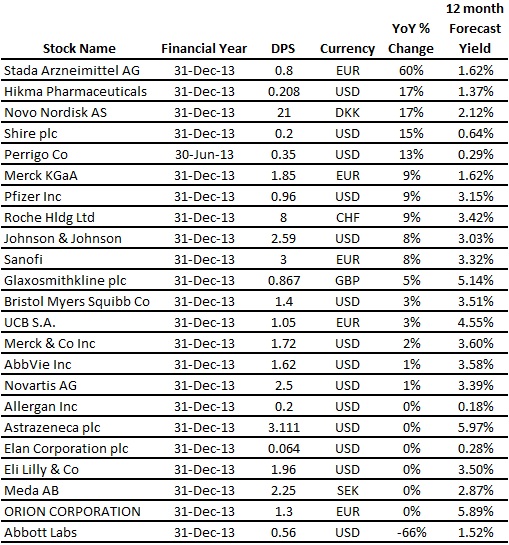 We're playing the trend via individual equities and a pair of ETFs. This is a great reference regardless of how your portfolio is constructed.
Source: