Stop it already with the "low volatility" thing. Your so-called low-vol trade is actually high-vol now that everyone's sick of bonds but afraid to bet on growth.
The rally is not about low-vol, it's about value stocks and dividends versus growth stocks and cyclicality. Let me show you the scoreboard YTD through April and please note there's not a single growth "style box" with a return above that of the total market, all of the outperformance is courtesy of value.
My breakdown below using Morningstar data (my daughter picked the color scheme):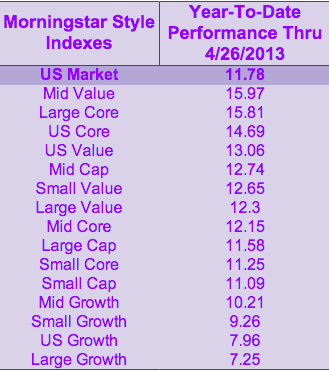 Guys, these are what Ned Davis calls the SHUT stocks (Staples, Healthcare, Utilities, Telecom) leading the rally and trading at highly expansive multiples, PE ratios at a premium to almost every point throughout history.
Kimberly-Clark makes toilet paper and tissues and grows zero percent a year – it's not like humans are suddenly evolving new noses and asses. But KMB is now selling for 18 times earnings, its highest multiple in more than a decade.
See the Factset chart below for an illustration of this: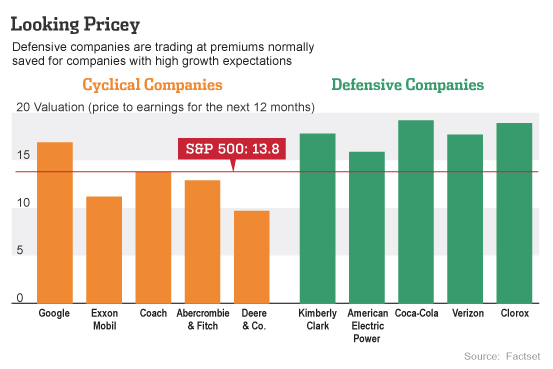 It's okay to be in these names (we've been overweight healthcare all year), but stop saying you're investing "defensively".
To avoid any more confusion, it's time to rename some of our old defensive "stalwarts" and widow-and-orphan stocks now that they're acting like aggressive growth stocks and momentum plays.
I make some suggestions below: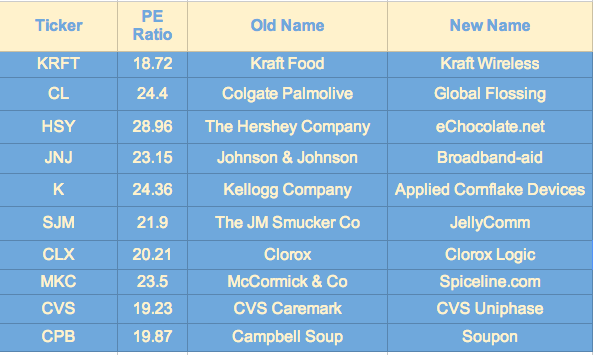 I'm sure you can come up with some of your own, knock yourself out!
Read Also:
Sector ETFs Are Hot, Even As S&P Hits Highs (Index Universe)