"Read 500 pages like this every day…That's how knowledge works. It builds up, like compound interest. All of you can do it, but I guarantee not many of you will do it."
– Warren Buffett
My favorite article from this weekend was from the Omaha World-Herald and it's about how Warren and Charlie's deputy stock pickers got hired at Berkshire Hathaway and their ongoing education under the tutelage of Warren Buffett.
Both Ted and Todd already knew how to make money and pick stocks – but what Buffett is teaching them now is how to become legendary.
It begins with getting off the phone, shutting down the monitor, turning off the TV and reading. A lot. Charlie Munger once famously remarked "In my whole life, I have known no wise people who didn't read all the time — none, zero. You'd be amazed at how much Warren(Buffett) reads — at how much I read. My children laugh at me. They think I'm a book with a couple of legs sticking out." It's nice to see that they really live this ethos at Berkshire.
Check out Todd Combs in the photo below. Take it all in. The monitors are dark, there's nothing on the desk save for a pile of what look to be annual reports or research notes and his feet are up. He's gonna be there for awhile. Reading.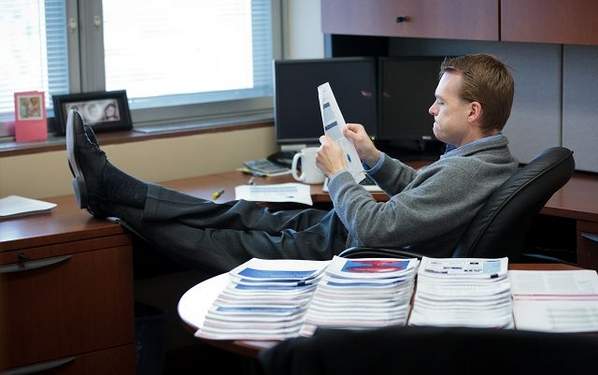 That looks like a dream come true to me. I find time to read but there's never enough. I'm trying to change that.
Please click over to Steve Jordon's whole article, it's fantastic and a rare glimpse into the inner sanctum of the Oracle's home base.
Source:
Investors earn handsome paychecks by handling Buffett's business (Omaha World-Herald)