I've long believed that the future of active management would be in the ETF wrapper but its happening very slowly. And most of the active ETFs are having trouble attracting assets and are about double what they should cost.
This will change.
For now, here's a look at the state of the active ETF market from AdvisorShares via ETF Trends: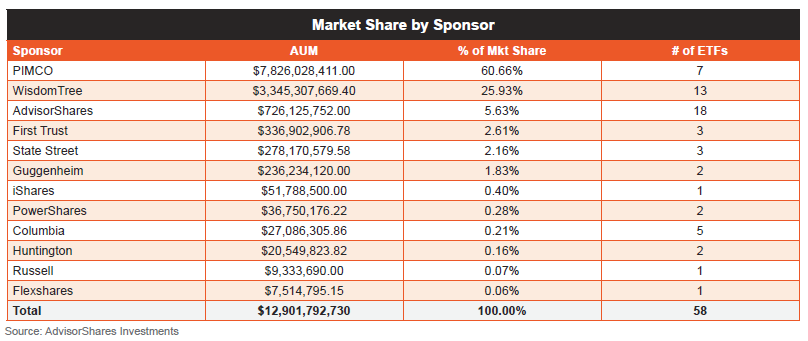 As John Spence notes, the PIMCO Total Return ETF, itself a spin-off of the popular mutual fund of the same name, holds about $5 billion in assets (of the total active ETF market which is just over $12 billion). This is peanuts in comparison to the whole ETF universe of $1.5 trillion and a speck in the funds complex overall.
iShares seems to have the right idea, what with their launch of two active ETFs with extremely low costs (under 50 basis points). In this environment, the traditional 1% + is a hard sell to the advisor community, which is largely becoming more and more Fiduciary in its standard of care.
Source:
Why PIMCO Dominates Actively Managed ETFs (ETF Trends)