Oh boy…there is a lot of VC money trapped in web-based money-tracking startups and online wealth whatevers – "We're going to disrupt the investment advice industry!" – yeah, no you're not.
I know of like twenty of these services off the top of my head. Mostly, they offer the mass affluent a way to keep track of all their finances and bank accounts and investment portfolios. Many of them offer automated financial advice or portfolio management or plain vanilla analytics.
There are well-done ones and wannabes but it's still early.
This new Bloomberg Black service, currently being tested very quietly, will not be music to their ears…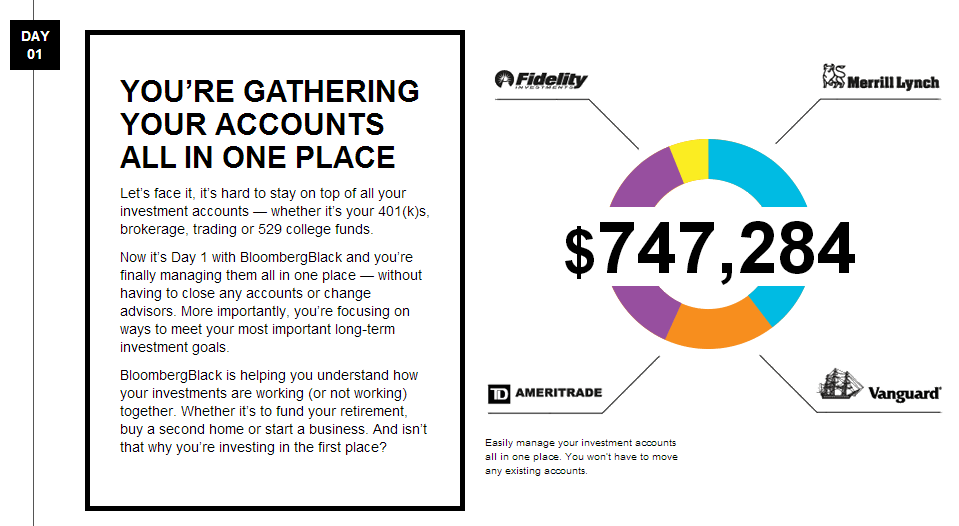 Enjoy these benefits for a fixed monthly fee of $100:
Gain greater control as we help you easily monitor and manage all your investment accounts in one place. (You won't have to move any existing accounts.)

Feel more confident knowing that BloombergBlack is watching over your investment strategy – tracking your goals, helping you find funds that best match your preferences and proactively alerting you about opportunities and risks in the markets.

Make smarter decisions with guidance from BloombergBlack investment strategists and content culled from across our vast resources and then targeted to you.

Talk to your team of investment professionals, whose job is to help make you a better manager of your wealth.
There are firms you compete with on data, analytics and user interface and there are firms you just don't. Bloomberg is in the latter camp.
Check it out here: