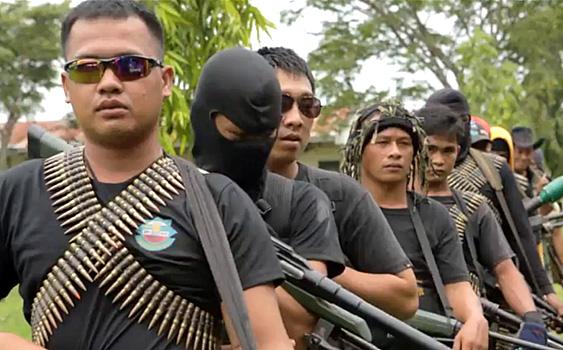 Can I just tell you that the new VICE show on HBO is one of the most disturbing things I've ever seen on television?
The premise is that, here in the 21st century, the world has never been more dangerous and screwed up than it is now – despite globalization and technological advances (or maybe because of them).
VICE, an online content and media company based in Brooklyn, sends ballsy reporters directly to the worst places on earth and puts them in harm's way to get footage and stories you'll not see anywhere else. Which is awesome and very frightening at the same time. Because after three episodes, what's became apparent to me is that the world is basically horrible, most places on earth resemble my vision of hell, and we're all probably going to be wiped out very soon anyway.
This conclusion becomes inescapable once you catch the segment they've filmed on the border in Kashmir – "the most militarized region on the planet."  The Indian and Pakistani subjects interviewed on both sides of the border (nuclear physicists, politicians, militants etc) speak about the coming nuclear war as though it's maybe tomorrow but definitely within the next year or so. "If one nuclear weapon is launched, every single one will be launched" – the earth can maybe withstand up to 100 nuclear bombs until total destruction. We're told that one more episode like the 2008 massacre in Mumbai and the whole thing goes atomic, pretty much.
Or perhaps you'll be horrified by the deformed children being born in Iraq as a result of the irradiated residue of battles fought near civilian populations.
Or maybe the political assassinations in the Philippines (1200 murders tied to elections recently) will mess you up bad. Or the gun- and RPG-toting armies made up of boys between the ages of 8 and 18 (there's no one left older than that who is still alive to fight, apparently).
What about the 6 to 14 year old suicide bombers who are trained in Pakistan and then sent to blow themselves up in Afghanistan for no discernible reason? These children are not taught the Quran, they are instead taught that they will survive the bomb blast and everyone else will be dead and that this is what God commands. The youngest ones aren't even told there's a bomb strapped to them – they are sent to stand in front of a hotel and then their supervisor pushes a button on a detonator from across the street, murdering everyone in sight.
There are horrors aplenty besides these – children learning to make guns out of scrap metal, a 23 year old North Korean girl who is sold to a Chinese pimp and then forced to abort a six month old fetus so she can have sex on a web cam for money immediately, the school in New Mexico where the young students are trained to disarm would-be attackers rather than have traditional phys ed classes, etc. Like I said, hell on earth.
I both hate the show and cannot turn away from it. And I also hate human beings now too and would prefer to never leave my house again.
Here's a preview of the next episode…
More here: