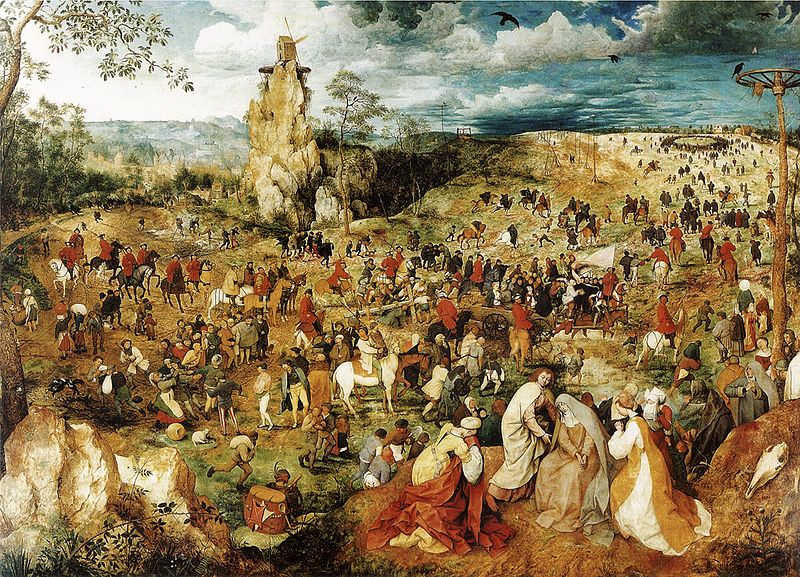 (The Procession to Calvary, oil on panel by Pieter Bruegel the Elder)
My ambivalence toward gold has been taken for bearishness a lot over the years so allow me to set the record straight:
I don't "hate" gold, I simply don't care about it as an investor.
It is utterly uninteresting to me and gold equity investing – things like paper ETFs and the shares of horrible gold miners – seems to defeat the whole purpose of an end-of-the-world asset class in the first place. I promise, should a torrent of plague and genocide wash across the land on a roaring floodtide of blood and economic catastrophe, your stupid-ass "stock market gold" shan't be left unscathed.  And if I am dismissive of it as an investment, you can imagine how I feel about it as an actual real-life medium of exchange – I live in the United States of America in the 21st Century and I have no interest in exchanging dollars in my savings account for something that hedge funds and sovereign governments can pump and dump at will.
I've been happy to be constructive on the gold trade so long as that gorgeous long-term uptrend had been in place – but I've consistently said that gold is a trade, not a way of life or a religion and certainly not a currency.
And so with the old trend broken to bits, there's nothing left to discuss.
BECAUSE THERE HAS NEVER BEEN ANYTHING FUNDAMENTAL ABOUT THE GOLD TRADE, THERE HAS ONLY BEEN A RISING-DEMAND-RELATIVE-TO-SUPPLY STORY TO TELL.
And now the spell is broken and many reluctant and late buyers have woken up to a commodity-style sell-off in an asset that they were told was as stable as cash. They've woken up to the fact that anytime the proverbial shit has hit the fan, their "safety trade" has let them down – from Dubai's blow-up to the Grexit that wasn't to the almost-collapse of the Euro Zone to the Arab Spring to the death of Andy Rooney. The Emperor has been spotted sans clothing. What has been seen cannot be unseen.
It simply doesn't work. The money printing is endless and central banks aren't even pretending they'll stop. Japan is daring you to look away, they'll denude every single forest in the eastern hemisphere before they stop making baby yens. So where is the inflation fear?
Where the fuck is your Gold Messiah now?
I expect the True Believers will continue to scream their heads off about money printing and that the real inflation hasn't even begun yet. They might be right, I can't see the future. But the Believers will conveniently fail to point out that stocks and real estate are also an inflation hedge – and a more productive one at that. That's fine, I live on Long Island and we have New York Jets fans here, too.
I have a friend who runs an all-gold hedge fund. He tells me he has a fairly easy job because his LPs don't care about performance, just that his portfolio continues to represent their rigid ideology. His investors have punched their tickets a long time ago and nothing will change their minds; his job under these circumstances is to simply maintain consistency of portfolio composition and quarterly update blather. He goes about his work of buying and selling gold futures and miners with half a smirk on his face.
I'm rooting for gold to rebound from here. I don't like to see huge amounts of people lose money, especially people who have been talked into something and aren't sophisticated enough to be able to bear the loss.
My concern is that even a rebound will fail to produce a new high – which could set up a longer-term downtrend should that be the case. And so even if gold has gotten short-term oversold and is "sitting at major support", I still can't find a constructive thing to say about it now.
What has happened thus far cannot be changed. What you do on whatever bounce may come is the only question worth thinking about.
As for me, I remain ambivalent and firmly on the side of Warren Buffett, who once said "I collect businesses and friends, not gold."
Some selected readings:
Gold prices dive 5% to $1,487 an ounce (USAToday)
Cyprus sell-off fears send gold price tumbling (Guardian)
Bear market fears loom as gold breaks key support levels (Scrap Monster)
Gold, Silver Prices Break Down; Gold Fund Trading Volume at 14-Month High (Focus On Funds)
Gold enters technical bear market after Friday drop (MarketWatch)
Gold sees biggest price drop in more than a year (CBS MoneyWatch)
Einhorn's big bet on gold slammed by sell-off (Reuters)
Marc Faber 'Loves' Gold Price Decline, Sees Buying Opportunity (Value Walk)
Breakable, Barterable Bullion: The Gold Bar You Can Carry In Your Wallet And Use As Money (Schiff Report)