Last night we talked about JC Penney as a perfect example as to why buy-n-hold for individual stocks simply doesn't work – over enough time, the majority of them disappear into mergers or bankruptcy.
Tonight, a quick peak at the converse – First Solar had been so loathed, for so long, by so many, that it was only a matter of time before it put a .38 slug in your culo.
The stock, a former highflier-turned-punchline, had stopped going down months ago after a gruesome few years in which everything went wrong for both the company and the industry. And today, she decided to to go up. Way up, with a raise in company guidance and one of the nastiest one-day short squeezes of all time.
Shorts got complacent, this thing was a goner in their minds.
Except enough damage has been done to competitors and enough capacity has left the industry that First Solar is finding itself winning again. Oh boy.
The below chart barely does it justice – this thing is up 48% in a week and now 80% over a year's time. And it's trading at like a 12 multiple – with 30% of the shares outstanding borrowed short. Rock-a-BYE, baby.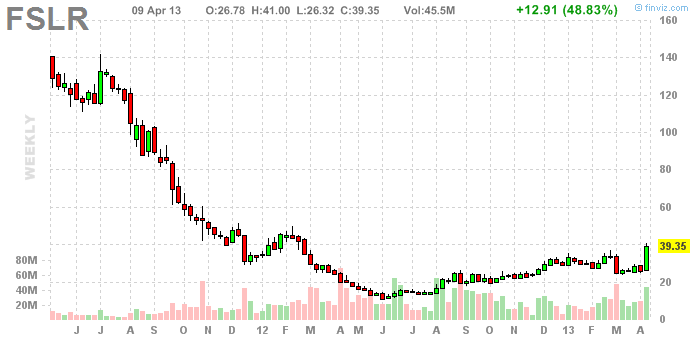 Don't overstay your welcome. I'm looking at you now, coal shorts and steel shorts.