Last week PIMCO held a Cyclical Outlook Webcast which took a 30,000 foot overview of some of the important drivers for the 2013 macro picture. Leading the discussion was Saumil Parikh CFA, who is a managing director, portfolio manager and a member of the PIMCO Investment Committee. He also leads the firm's cyclical economic forums.
On the subject of US housing, here's what he had to say:
* On housing prices and sales we're in a two to three year cyclical upswing coming out of effectively a five year depression
* PIMCO expects home prices to be up 5% in the next 12 months nationally, substantially more more in the distressed regions.
* Overall residential construction should be up 30-40% this year and continue to pickup significantly, this will contribute half to three quarters of a percentage point to total US GDP over the next 12 months
What does this mean for the consumer and consumer balance sheet? This is the biggest question – Both the wealth side and debt side of the consumer balance sheet have improved significantly.
If this balance sheet is no longer a drag on consumption, then the big question becomes whether or not they will actually begin to help.  Parikh believes that, yes, the consumer balance sheet (helped by housing) will become a positive growth driver net net this year, though nothing of the order of magnitude from 2005, 2006.
A helpful housing chart from the presentation for perspective: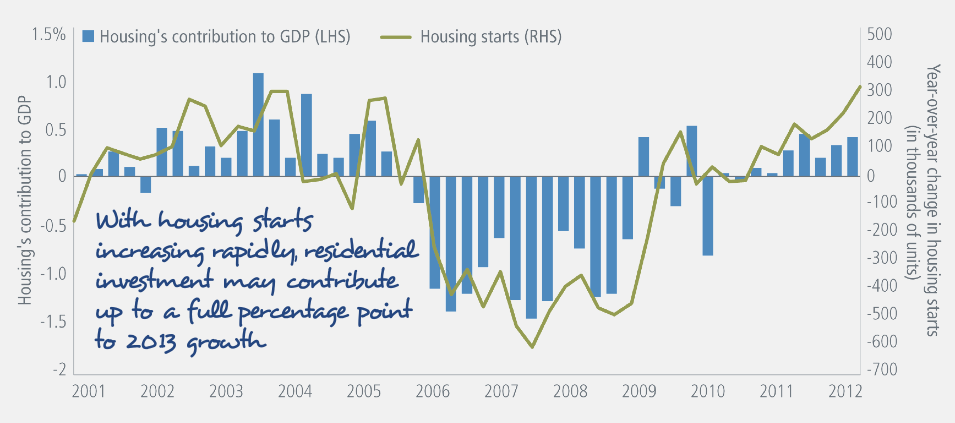 In my mind, no one has made this point better than Joe Lavorgna at Deustsche – the uplift in growth possible now that home prices are no longer dragging on net worth, sentiment and spending proclivities. In his comments from January, Lavorgna made an estimate on the driving effect stabilized housing could have elsewhere in the economy:
"we are projecting home price appreciation of 5-10% in 2013, which translates into a further increase in household assets, i.e. wealth creation, ranging between $860 billion and $1720 billion [$1.7 trillion]. To be sure, the wealth effect on consumer spending could be substantial."
I've also been hammering this point home for awhile now myself:
Get Rich or Die Trying – 9/14/2013 (TRB)
Upside Risks – 1/26/2013 (TRB)
American Households Regain 92% of Wealth Lost Since 2007 – 3/13/2013 (TRB)